Dienstleistungen
>
Sehenswürdigkeiten
>
Český Krumlov
>
Stadtführungen
>
Täglich
Cesky Krumlov Free Walking Tour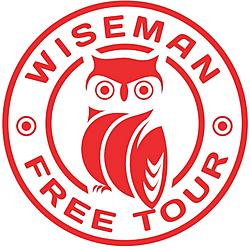 The meetingpoint - Náměstí Svornosti, In front of Infocentrum
38101 Český Krumlov
Kontakt: Bc. Ondřej Gyürke
Telefon: +420 723 520 154

E-mail: info@wisemanfreetour.com
WWW: www.wisemanfreetour.com

Lage: Český Krumlov
Type: Täglich
Free walking tour of Cesky Krumlov two times every day: free tours start at 10:30 AM & 2 PM form April to October. From November to March check www.wisemanfreetour.com.

Our free tours start in front of the tourist INFOCENTRUM office on the main square (Namesti Svornosti).

Our guides wear red shirts and have red umbrellas with a Wiseman logo. The tour takes about 1,5 hour.

The tour is based on tips. It's simple and logical: you get a great tour, and you decide if and how much you want to tip.
Cesky Krumlov Free Walking Tour
| | | |
| --- | --- | --- |
| Termin | Von - Bis | Führungs-dauer |
| 01.01.2017 - 31.03.2017   (Mon-Son) | 10:30 - 12:00 | 01:30 Uhr. |
| 01.04.2017 - 31.10.2017   (Mon-Son) | 10:30 - 12:00 | 01:30 Uhr. |
| 01.04.2017 - 31.10.2017   (Mon-Son) | 14:00 - 15:30 | 01:30 Uhr. |
| 01.11.2017 - 23.12.2017   (Mon-Son) | 10:30 - 12:00 | 01:30 Uhr. |
Fotogalerie
Weitere Angebote: