ČESKÝ KRUMLOV CARD
CASTLE MUSEUM AND CASTLE TOWER
REGIONAL MUSEUM IN ČESKÝ KRUMLOV
a 50 % reduction off the regular ticket price

card can be used for up to 6 months

card is transferable to another person in the same category

for sale at Tourist Information Centre Český Krumlov and at all participating
attractions
Card price

Full
CZK 200
Reduced
children up to 15 years, seniors over 65 years, students up to 26 years and handicapped
CZK 100
Family
2 adults + max. 3 children up to 15 years
CZK 400
Here at this page you can find out all you need to know about the Český Krumlov Card: what exhibitions you can visit, what can you expect there, how to buy your Card and at what price, how does the Card work and how you should use it.
Bonus to Český Krumlov Card : discounts to restaurants
Now when you purchase Czech Krumlov Card at Information Centre (Svornosti Square 2), you receive a bonus - discount card IN CARD, that allows you to draw discounts in selected restaurants and other buildings.
Do you plan to stay in Český Krumlov but have not yet decided on the length of your stay and where to stay? We can help. Choose one of our partner hotels or guesthouses, stay for a minimum of 3 nights and you will receive an excellent present - Český Krumlov Card entirely FOR FREE.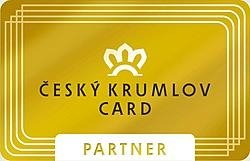 Frequently Asked Questions
You can find answers to additional questions you may have about how the Český Krumlov Card works in the Frequently Asked Questions.
Možnosti spolupráce