International Music Festival Český Krumlov will enter its third decade of existence with a programme respecting the tradition and offering classical music, opera and jazz. You can also expect new international music projects.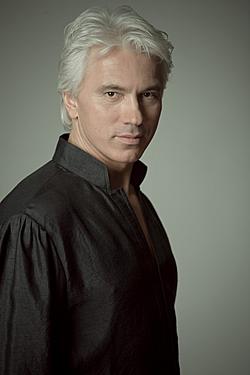 The Festival commences on Friday 20 July with a gala concert of the internationally respected Russian barytonist Dmitri Hvorostovski held in the Brewery Gardnes. Since the beginnings of his career, Hvorostovsky has been praised for his cultivated voice, sense of music and a natural legato. He holds engagements in many top Opera houses worldwide including the Royal Opera at Covent Garden in London, the Metropolitan Opera in New York, National Opera in Paris, Bavarian State Opera, La Scala in Milan, Vienna State Opera or Lyrical Opera in Chicago.
A renown Russian pianist Konstantin Scherbakov will be another notable guests of the Festival. He will perform piano concerts by Mendelssohn and Tchaikovsky in the Castle Riding Hall on Friday 27 July. Together with Scherbakov will perform Cheong Sang-hee, a Korean-born violinist.
Jazz, pop and classical music will be represented by the world's leading soloist on the piccolo-trumpet, Otto Sauter with ten of the bests trumpet players in the world. The ensemble "The ten of the Bests" will perform on Saturday 11 August in the Brewery Gardens. The concert halls of the State Castle and Chateau Český Krumlov will see performances by soloists including the previously mentioned pianist Konstantin Scherbakov, violoncellist Jiří Bárta or the violin virtuoso Václav Hudeček.
A total of three exceptional projects will be presented at this year's IMF: a non-traditional quartet MozARTGroup in the Castle Riding Hall, The Queen Symphony in the Brewery Gardnes and The Canadian Tenors in the same location. The Czech Radio Symphonic Orchestra will again be the orchestra in residence this year.
The Argentinean tenor José Cura will make an appearance for the third time, returning to the Revolving Auditorium in a repeat of a project co-produced with the South Bohemian Theatre. José Cura will perform the role of the Principal Canio in the successful production of the Pagliacci by Leoncavallo from 24 to 26 August.
A colourful Balkan evening with the legendary Boban i Markovič Orkestar will be a pleasant addition to the Festival. It will put the visitors to dancing on Saturday 4 August in the Eggenberg Brewery Gardens.
The festive closing concert on 18 August will be by the Canadian tenors, four talented and charismatic singers who all have solo careers of international dimensions under their belts. Millions of listeners worldwide have already succumbed to their beautiful voices and well as their sense of humour and easily recognizable melodies. These fours have already cooperated with a number of stars such as Andrea Bocelli, David Foster, Sheryl Crow, Neil Young, Celine Dion or Paul McCartney.
For more concerts and information please see here.
Advance ticket sale: Infocenter Český Krumlov