Services
>
Places to visit
>
Region of Český Krumlov
>
Trips around Český Krumlov
>
Castles, chateaus, ruins
Slavkov Fortress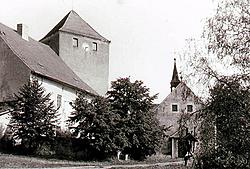 Obecní úřad
38211 Bohdalovice
Contact: Obec Bohdalovice
Telephone: +420 380 750 933
Fax: +420 380 750 933

E-mail: oubohdalovice@iol.cz
WWW: www.bohdalovice.cz

Location: Region of Český Krumlov
Type: Castles, chateaus, ruins
The most important part of this manor is the square tower.Slavkov Fortress is one of a few buildings where the original connections of individual elements of a manor were preserved. It is even more precious because it is very well documented from the historical point of view.
Accessibility by road:
Slavkov Fortress is located 7 km to the south-west of Český Krumlov.