Services
>
Places to visit
>
Region of Český Krumlov
>
Trips around Český Krumlov
>
Religious monuments
The chapel and the Way of the Cross Studenec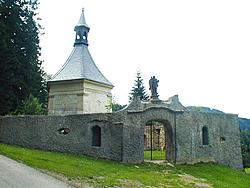 Obecní úřad
38218 Rožmberk nad Vltavou
Contact: Obec Rožmberk nad Vltavou
Telephone: +420 380 749 820

E-mail: ourozmberk@ck.ipex.cz

Location: Region of Český Krumlov
Type: Religious monuments
The locality of Studenec near Rožmberk nad Vltavou is called after a well with miraculous water.
There was a supported document issued in 1679 proving that it is allowed to celebrate masses in the newly built chapel. The chapel was given the name of St. Anna.
The Way of the Cross from Studenec to Bílý most in Rožmberk leads through the wood up the stone staircase right to the chapel.

At present the Way of the Cross and church are being restored by the Civil Association along with the municipality and there is a very real hope to reconsecrate the oldest Way of the Cross in this area.
Accessibility by road:
Autobus - lines towards : Český Krumlov, Rožmberk nad Vltavou,Vyšší Brod, Loučovice, Lipno nad Vltavou, Frymburk