Services
>
Places to visit
>
Region of Český Krumlov
>
Trips around Český Krumlov
>
Castles, chateaus, ruins
Kladenské Rovné Fortress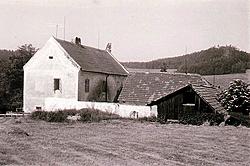 Obecní úřad
38221 Kájov
Contact: Obec Kájov
Telephone: +420 380 731 237

E-mail: ou-kajov@ou-kajov.cz

Location: Region of Český Krumlov
Type: Castles, chateaus, ruins
Bušek z Rovného was the earliest owner of the village who was recorded as early as in 1308.
A building resembling a grange was built on the place of the former fortress. Only the internal window and ceiling vaults on the first floor remind the medieval stony construction of the residential tower.
Accessibility by road:
The village of Kladenské Rovné is located between the villages of Kájov and Hořice na Šumavě about 7 km to the south-west of Český Krumlov.