Services
>
Places to visit
>
Český Krumlov
>
Monuments
The fountain on the main square in Český Krumlov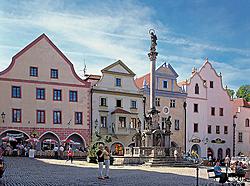 Náměstí Svornosti 1
38101 Český Krumlov
Contact: Městský úřad
Telephone: +420 380 766 306

E-mail: podatelna@mu.ckrumlov.cz

Location: Český Krumlov
Type: Monuments
The first mention of the water run on the square in Český Krumlov appeared in fire and police regulations for Český Krumlov burghers compiled by Jan from Rosenberg in April 1388. At that time the water tank was made of wood.
The stony fountain first appeared in the town in 16th century.
In 1843,because of the rusty condition the fountain was abolished, and a new one was built by the Plague Column in the upper part of the square.
Accessibility by road:
The square