Services
>
Places to visit
>
Český Krumlov
>
Monuments
Fountains and Watering Places in Český Krumlov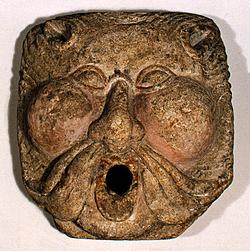 Náměstí Svornosti 1
38101 Český Krumlov
Contact: Městský úřad
Telephone: +420 380 766 306

E-mail: podatelna@mu.ckrumlov.cz

Location: Český Krumlov
Type: Monuments
The need for clean water was the main reason why from 15th century the citizens of Český Krumlov continually built a system of ducts to supply the town with water. It was also important to build reservoirs and water tanks that water could funnel through. These reservoirs and tanks were situated in squares and open places, on courtyards and quiet corners of the streets. These tanks of drinking water looked like reservoirs or fountains and were built on easily accessible places. It was also important because of fires which occured very often.
Water was brought to the fountains with wooden bored pipes.
Although these ducts no longer function, many fountains have been preserved to the present day .
Accessibility by road:
Around Český Krumlov town centre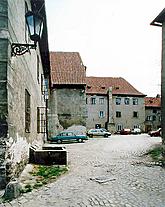 A stony tank 60 cm high, 140 cm wide, and 260 cm long.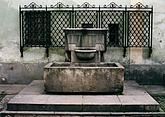 A stony tank 65 cm wide and 200 cm long is situated just opposite the entrance to the courtyard by the wall of the building.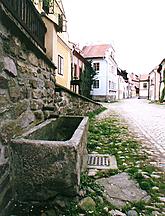 A little stony tank is situated by the garden wall bellow the theatre opposite Parkán No. 116. The tank is 65 cm wide, 200 cm long, and 60 cm high.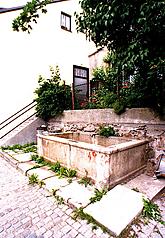 A stony fountain is situated in a corner made by a fading street line in front of the building no. 46. The tank is 160 cm wide and 290 cm long. Its height is 80 cm.
A stony fountain is situated in the southern corner of this small square at no. 97. It is 220 cm wide, 350 cm long, and 100 cm high.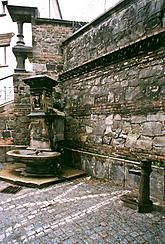 A stony fountain lies in the corner between the stairs leading to St. Vitus´ church and a retaining wall. The fountain has an oval tank placed on the socle annexed to the column.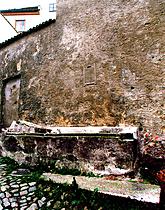 A stony fountain of an oval shape is 75 cm wide, 370 cm long, and 85 cm high.
A stony fountain in front of a house Široká no. 51. It is 245 cm wide, 340 cm long and 10 cm high.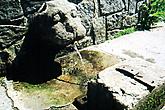 This is a spring gargoyle in Jelení Garden in Český Krumlov. A stony head, probably the lion's head, is attached to the modern wall.