Services
>
Places to visit
>
Region of Český Krumlov
>
Trips around Český Krumlov
>
Religious monuments
Zlatá Koruna Monastery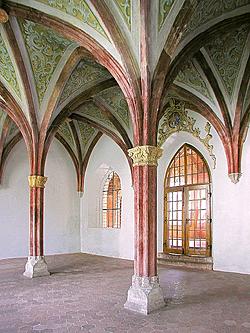 Zlatá Koruna 1
38202 Zlatá Koruna
Contact: Národní památkový ústav, ÚOP v Českých Budějovicích, PhDr. Zdeněk Troup
Telephone: +420 380 743 126
Fax: +420 380 743 126

E-mail: zlatakoruna@budejovice.npu.cz
WWW: klaster-zlatakoruna.eu/

Location: Region of Český Krumlov
Type: Religious monuments
Offered services:
Ticket and other booking
Public toilets
Renting of the rooms
Touristic souveniers for sale
Left-luggage office
The former abbey in Zlatá Koruna is the best preserved Cistercian monastery in Bohemia. The area of the monastery was in 1995 announced as the national cultural treasure.
According to the Baroque monastery chroniclers Přemysl Otakar II founded Zlatá Koruna to thank God for blessing him in his victory over the much stronger Hungarian king Béla IV in the battle of Kressenbrunn. Although some fragmentary news taken from the sources of that time as well as from later ones correspond with this version, it was not the main reason why the monastery was founded.

The Cistercians of the most significant Austrian abbey in Heiligenkreutz were called by Přemysl Otakar II to the Zlatá Koruna monastery in 1263 for his support against power of the Witigonen who built a powerful dominion in South Bohemia.
Accessibility by road:
The Zlatá Koruna monastery is located about 8 km to the north of Český Krumlov, in the direction of České Budějovice.
Opening times:
| | |
| --- | --- |
| Dates | From - To |
| 01.04.2019 - 31.05.2019   (Tu-Su) | 09:00 - 15:30 |
| 01.06.2019 - 31.08.2019   (Tu-Su) | 09:00 - 16:30 |
| 01.09.2019 - 30.10.2019   (Tu-Su) | 09:00 - 15:30 |
1. route
Little convent, the chapel of Guardian Angels , a convent with cloister, a convent church (a three-aisled basilica with the transept).
Possibilities: Guided tour, Possibility to arrange a tour out of the opening hours, Barrier-free admission
Tour with a guide: Czech, German, English
Lending of reading material available: Czech, German, English, French, Hungarian
Valid price list: 01.03.2019 - 31.10.2019
| | | |
| --- | --- | --- |
| Appropriation | Unit | Price per unit |
| Tour with czech commentary | pers. | 100 CZK |
| Tour with czech commentary - children, students | pers. | 70 CZK |
| Tour with czech commentary - Family | | 270 CZK |
| Tour with czech commentary - pensioners | pers. | 70 CZK |
| Tour with foreign language commentary | pers. | 180 CZK |
| Tour with foreign language commentary - children, students | pers. | 140 CZK |
| Tour with foreign language commentary - pensioners | pers. | 140 CZK |