Services
>
Places to visit
>
Český Krumlov
>
Guided tours
>
Daily
Cesky Krumlov DAILY CITY TOURS
Vyšehrad 261
38101 Český Krumlov
Contact: Karolina Kortusová, Krumlov Tours
Telephone: +420 723 069 561
Mobile phone: +420 723 069 561

E-mail: info@krumlovtours.com
WWW: www.krumlovtours.com

Location: Český Krumlov
Type: Daily
Offered services:
Ticket and other booking
On-line ticket booking
Accommodation
List of offers:
Cesky Krumlov city walking tours available for independent travellers and groups to enjoy Cesky Krumlov at its best while accompanied by a local guide. Tripadvisor and Rick Steve´s recommended.
These tours are available all year round:
Cesky Krumlov Old Town Tour - daily at12:30 meet in front of Infocentrum Tourist Office, Namesti Svornosti.
Krumlov Legedns (private tours only)

Tickets for regular daily tours for independent travellers are sold at Infocentrum Tourist office, Svornosti Square

Private tours or groups or : please make your reservation at info@krumlovtours.com or call +420723069651.
Accessibility by road:
All tours start at the main square Svornosti, in front of Infocentrum Tourist Office
Opening times:
| | |
| --- | --- |
| Dates | From - To |
| 01.01.2017 - 31.12.2017   (Mo-Su) | |
CESKY KRUMLOV OLD TOWN TOUR
Learn about the people and legends of the old days and hear the recent story of this special UNESCO-protected town. Explore the labyrinth of cobbled medieval streets, hidden nooks as well as the best spots of the Old Town and the castle exteriors.
Tripadvisor.com recommended tours.
You will see:
Renaissance town hall *Former Jesuit hall of residents*Jesuit's garden view point* House of Prelate*Gothic church of St.Vit*Former Latin School* Renaissance house of Krcin*Former town brewery* Renaissance Italian house* Barber´s house*Old orphanage and hospital* Cesky Krumlov Castle – 1st Castle courtyard* Bears´ moat*Castle tower* Mint and 2nd Castle courtyard Outside of the castle Residence Castle View bridge Castle Baroque theatre.

Private CESKYS KRUMLOV TOUR tour with Karolina Kortusova
Take a private tour with Karolina Kortusova, a founder of Krumlov Tours and a local official guide with 14 – year guiding experience. Take inside views into Czech current history, transition and communist times. Hear how is life nowadays and used to be couple hundreds years ago.

Outside these times and groups, please contact as at info@krumlovtours.com
Tel: +420723069561, or use booking request form.
Possibilities: Guided tour, Possibility to arrange a tour out of the opening hours, Credit transfer, Possibility of EUR payment
Type of offer: for individuals and groups
Number of person in the tour: From 2 To 45
Tour with a guide: Czech, German, English, French, Italian, Spanish, Russian, Hungarian
Tour leader for free for groups from … persons 10 persons
GHOST TRAIL
Hear the stories that have been passed down through the generations. Have fun while you learn bits of the town´s and Czech history.

Available on request
Duration: 60 to 90 minutes.

Please ask for price quotation and specify date and time.

You can contact us through booking request form above or directly at info@krumlovtours.com or CALL to +420723069561 Karolina Kortusova
Possibilities: Guided tour, Possibility to arrange a tour out of the opening hours, Credit transfer, Possibility of EUR payment
Number of person in the tour: From 2 To 30
Tour with a guide: English
Tour leader for free for groups from … persons 10 persons
KRUMLOV LEGENDS Night city tour
The Old Town of Cesky Krumlov is a unique spiritual location and its ancient houses and historical figures are legendary. During this tour visitors hear the stories that have been passed down through the generations and see the best spots of Cesky Krumlov Old Town as the Renaissance Town Hall (the mean innkeeper´s legend), old Jesuits Seminar (Elsa´s unfortunate
love story), St.Vitus church, castle courtyards (White Lady legend) and many others.

Duration: 1.5 to 2.5 hours depending on your requirements.

Available all year round.
Private tours and groups, please book at info@krumlovtours.com or call Karolina Kortusova, Krumlov Tours +420723069561
Possibilities: Guided tour, Possibility to arrange a tour out of the opening hours, Credit transfer, Possibility of EUR payment
Type of offer: for individuals and groups
Number of person in the tour: From 2
Tour with a guide: Czech, German, English, French, Italian, Spanish, Russian, Hungarian, Dutch
Tour leader for free for groups from … persons 15 persons
Krumlov Tours, run by Karolina Kortusova, provides DAILY CITY WALKING TOURS to the Cesky Krumlov Old Town and the Castle courtyards&gardens.
RICK STEVES and TRIPADVISOR recommended.

1. Cesky Krumlov guide service
GROUPS OR INDEPENDENT TRAVELERS
Cesky Krumlov Old Town and Castle Courtyards
Ghost Trail


Prices&Reservations: info&krumlovtours.com

SIGHTSEEING TRIPS
HLUBOKÁ CASTLE
3.5 hours
Visit one of the most beautiful chateaus in Bohemia.
Available all year-round except March.
Daily except Mondays (1.4. to 31.10..)
Daily except Mondays and Sundays (1.11. – 28.2.)
CZK 990 per person (guide, transport, castle tour)
MIN. 3 PERSONS or CZK 2900

TRIPS FOR GROUPS OF MORE THAN 3 PEOPLE
Hluboka Castle
Budweiser Brewery Ceske Budejovice
Trebon
Telc
Slavonice
Jindrichuv Hradec
Lipno Lake Cruise
Vyšší Brod Abbey Brewery
Rožmberk Castle

WEDDING in Cesky Krumlov
A dream wedding in a medieval town of Cesky Krumlov, South Bohemia.
Civil and religious ceremonies can be held either in outdoor locations, Cesky Krumlov Castle and other indoor locations.
We provide wedding coordination and wedding planner services in Cesky Krumlov.
Visit www.krumlovwedding.com

Ask for Cesky Krumlov Wedding Catalogue here – info@krumlovtours.com
Possibilities: Guided tour, Possibility to arrange a tour out of the opening hours, Possibility of EUR payment
Type of offer: for individuals and groups
Number of person in the tour: From 2
Tour with a guide: Czech, German, English, French, Italian, Spanish, Russian, Hungarian, Dutch
Tour leader for free for groups from … persons 20 persons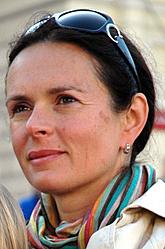 Karolina Kortusova, the founder of Krumlov Tours, hails from Northeast Bohemia, but has family roots in Cesky Krumlov. She studied textiles & clothing technology just after the collapse of the Communist regime and was one of the first students who obtained a UK scholarship, which enabled her to complete her Master´s degree in Marketing at Manchester University.
After finishing her studies, she worked for some time abroad and since 1995 she has worked in the private business sphere, till 2000 participating in projects focused on Czech industry transfer from planned to market economy system. She has fallen in love with Cesky Krumlov and its history, architecture and spirit, which is a never-ending source of inspiration and excitement. Cesky Krumlov professional tour guide, she loves meeting people and sharing her knowledge and passion for her home town with others. Karolina is a certified English
tourist guide, legal interpreter and enthusiastic wedding planner. She lives with her husband and three daughters on one of the Cesky Krumlov hills.You can read testimonials of her clients at tripadvisor.com - Cesky Krumlov Walking Tours
Possibilities: Guided tour, Possibility to arrange a tour out of the opening hours
Type of offer: for groups
DRIVER-GUIDE SERVICES
Private "driver-guide" services (driver and guide as 1 person) which is the most economic way of discovering new places (only for groups not larger than 6 people).

We take you to Telc UNESCO side, on the way, you can visit Trebon and Hluboka castle.

Individual requests, please write us at info@krumlovtours.com
Type of offer: for individuals and groups
Photogallery