Services
>
Places to visit
>
Český Krumlov
>
Theater, Cinema, Town library
Town Theatre Český Krumlov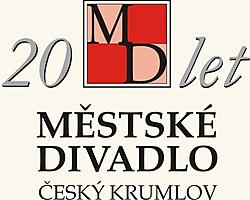 Horní Brána 2
38101 Český Krumlov
Contact: Jan Vozábal
Telephone: +420 380 711 775
Fax: +420 380 711 775
Mobile phone: +420 602 331 162

E-mail: info@divadlock.cz
WWW: www.divadlo.ckrumlov.cz

Location: Český Krumlov
Type: Theater, Cinema, Town library
Location on the map | Google Street View
Town Theatre Český Krumlov organises theatre performances, concerts, performances for children and young people from September till June. Up-to-date programme and more information you can find at www.divadlo.ckrumlov.cz.

We are looking forward to seeing you.
PRODUCTION
Town Theatre Český Krumlov offers organisation of cultural and sociable events.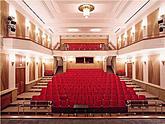 Modern culture site featuring high quality technical equipment. The Town Theatre is located in the centre app. 500 meters from the main square. Ideal venue for conferences, seminars, workshops and other special functions.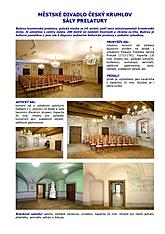 The House of Prelate built in gothic style in the late 14th century. It is located in the centre of the Old Town. The building itself is protected by National Trust and features unique historical premises with exceptional mural paintings.
Internet:
www.ckrumlov.cz/tickets


At the theatre:
MĚSTSKÉ DIVADLO ČESKÝ KRUMLOV
Tuesday and Thhursday: 13.00 – 17.00
and 1 hour prior the performence
E-mail: vstupenky.divadlo@ckrumlov.cz

other:

INFOCENTRUM ČESKÝ KRUMLOV
náměstí Svornosti 2
Tel.:380 704 621, Fax: 380 704 619
E-mail: info@ckrumlov.cz

UNIOS TOURIST SERVICE ČESKÝ KRUMLOV
Zámek 57
Tel: 380 725 110, Fax: 80 712 424
E-mail: tourist.service@unios.cz
Inexpensive accommodation in a newly-equipped bed & breakfast in the theatre's attic. Close nearby is a private parking lot and theatre café with a terrace holding one of the best views onto Český Krumlov.
Photogallery