Services
>
Places to visit
>
Český Krumlov
>
Museums
Museum Fotoatelier Seidel
Linecká 272
38101 Český Krumlov
Contact: Zdena Mrázková
Telephone: +420 736 503 871

E-mail: info@seidel.cz
WWW: www.seidel.cz

Location: Český Krumlov
Type: Museums
Offered services:
Public toilets
Renting of the rooms
Touristic souveniers for sale
Welcome in the Museum Fotoatelier Seidel! In unique place where tradition of photography sprang up in the 19th century, in place where Time stood still.

The Josef and Frantisek Seidels' studio exposition will surprise by its authenticity, its wealth of unique period images, post-cards and glass-plate negatives, and the well-preserved, functioning cameras, enlargers and darkroom equipment. This outstanding collection is enhanced even further by Seidel's personal notes, diaries, cutomer records, and the original furniture and fixtures in the house.

Facebook: Museum Fotoateliér Seidel
Accessibility by road:
The Museum Fotoatelier Seidel is located in the pedestrina zone, about 5 minutes walk from P3 parking lot.
Tour of the museum
| | | | |
| --- | --- | --- | --- |
| Dates | From - To | Tour duration | Last tour |
| 01.10.2018 - 30.04.2019   (Tu-Su) | 09:00 - 17:00 | 00:50 hour | 16:00 hour |
| 01.05.2019 - 30.09.2019   (Mo-Su) | 09:00 - 17:00 | 00:50 hour | 16:00 hour |
The tours take place every hour.
12:00 AM - 1:00 PM CLOSED - LUNCH BREAK
24.12. and 31.12. CLOSED

Within the tour you will see many things not only from a world of photography, but also from living at czech-austrian-german borderland at the turn of 19th and 20th century and in the 1st half of 20th century.

The house with the photo studio itself is an architectural gem. The reception room, private bedroom and a small living room of the last inhabitants of the house, the married couple of Marie and František Seidel. Authentic, carefully restored, furniture, lab and a room for daylight photo copying, various technical equipments like a paper scissors, a photo press, a hand-oprated printer, magnifiers, copiers and polishing machines, hand-operated printer to print the back sides of photografphs...

That all and many more waits for you in the Museum Fotoatelier Seidel.
Possibilities: Guided tour, Possibility to arrange a tour out of the opening hours, Possibility of EUR payment
Where: Museum Fotoatelier Seidel, Linecká 272, Český Krumlov
Type of offer: for individuals and groups
Number of person in the tour: To 20
Tour with a guide: Czech, German, English
Lending of reading material available: Czech, German, English
Valid price list: 01.01.2019 - 31.12.2019
| | | |
| --- | --- | --- |
| Appropriation | Unit | Price per unit |
| Admission for family = 2 adults + 1 - 4 children | Fam | 240 CZK |
| Adult | Person | 120 CZK |
| Child 6-15 years | Pers. | 50 CZK |
| Student 15-26 years/Senior over 65 years | Pers. | 80 CZK |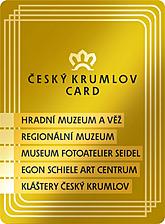 Want to see the best that Český Krumlov has to offer while taking your time to do it at your own pace? Then the Český Krumlov Card is just for you.

* admission to five unique attractions included in the price
* a 50% saving off the regular ticket price
* card can be used for up to 12 months
* card is transferable to another person in the same category
* for sale at Tourist Information Centre Český Krumlov and at all participating
attractions
Valid price list: 01.01.2019 - 31.12.2019
Appropriation
Unit
Price per unit
Český Krumlov Card - Adult
pers.
300 CZK
Český Krumlov Card - family

2 adults + max. 3 children

family
600 CZK
Český Krumlov Card - reduced

children, seniors, students, handicapped

pers.
150 CZK