Services
>
Places to visit
>
Region of Český Krumlov
>
Trips around Český Krumlov
>
Castles, chateaus, ruins
Little Castle "Vítkův Hrádek"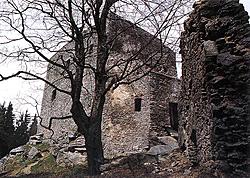 Křenov 93
38101 Český Krumlov
Contact: Občanské sdružení Vítkův Hrádek; jednatel JUDr. Jan Navrátil
Telephone: +420 737 281 976

E-mail: navratil@vitkuvhradek.cz

Location: Region of Český Krumlov
Type: Castles, chateaus, ruins
From the time the castle was established by Vítek z Krumlova (1220 - 1272) in the 13th century, it performed the function of a fortress and an administrative centre of the estates that were part of the growing dominion of the members of the Witigonen family. Their estates were spread on the both sides of today's border between the Czech Republic and Austria.

Accessibility: Vítkův hrádek is located in the Czech-Austrian border area about 0.5 km from the Svatý Tomáš settlement on top of the Vítkův kámen mountain. You can reach Svatý Tomáš either from the Přední Výtoň village or by the ferry across the Frýdava river from Frymburk .
Accessibility by road:
The little castle of Vítkův Hrádek is located on the border of South Bohemia and Austria above the village of Svatý Tomáš that no longer exists. It is situated to the west of the little town of Frymburk, on a wooded hill on the right bank of the Vltava river.
Tour of the castle
| | |
| --- | --- |
| Dates | From - To |
| 01.01.2017 - 31.12.2017   (Sa-Su) | 10:00 - 16:00 |
Possibilities: Possibility to arrange a tour out of the opening hours
Type of offer: for individuals and groups
Valid price list: 01.01.2017 - 31.12.2017
| | | |
| --- | --- | --- |
| Appropriation | Unit | Price per unit |
| Adult | pers. | 50 CZK |
| Children | pers. | 25 CZK |