Services
>
Places to visit
>
Český Krumlov
>
Archive
>
Highlights 2011 - Archive
Handicap Day, A Day Without Barriers 2011
Zámek 57
38101 Český Krumlov
Contact: Kiwanis klub Český Krumlov
Telephone: +420 380 704 614
Fax: +420 380 704 619

E-mail: handicap@ckrumlov.cz
WWW: www.ckrumlov.cz/handicap2011

Location: Český Krumlov
Type: Highlights 2011 - Archive
List of offers:
Handicap Day, A Day Without Barriers 2011
Dear guests and friends! We are pleased to invite you to the eighth annual meeting "without barriers" in Český Krumlov. As usual we would like to bring you a number of activities leading you to discover your special piece of Krumlov, some particular place, an unusual view or a surprising touch. We have prepared special Castle and Baroque theatre tours and town tours for the wheelchair bound or for the blind assisted by a professional tour guide. You can also visit various museums and galleries with the assistance of trained aides. If you enjoy a taste of adventure, you can learn to know the old town from the boat on the Vltava River. There will also be a number of musical and other performances on the Square as well as useful activities. We trust that you will enjoy this day filled with joy, experience and friendly encounters. Let´s have a ball! Yours faithfully, Kiwanis Club Members Český Krumlov
Participants' Registration
| | |
| --- | --- |
| Dates | From - To |
| 10.09.2011   (Sa) | 09:00 - 11:00 |
Participants' registration takes place on the Svornosti Square. Registered participants may park their cars in the lower part of the Jelenka P1 parking lot (from the direction of Česká Budějovice opposite the winter stadium). Parking is possible all day from 9 am.
Official Opening
| | |
| --- | --- |
| Dates | From - To |
| 10.09.2011   (Sa) | 11:00 |
| | |
| --- | --- |
| Dates | From - To |
| 10.09.2011   (Sa) | 10:00 |
| 10.09.2011   (Sa) | 15:00 |
The 2nd viewing route will be included in the event program. The Castle provides a guide in Czech language and free entry to all registered handicapped visitors and their escort. The modified route includes: The Coated hallway, painting hall, chambermaid's room and the closet of countess Eleonora, boudoir, bedroom of countess Eleonora, study, ante-room, dining room and return to the garden. Maximum duration 60 minutes. The group can include a maximum 7 wheel-chaired visitors + their escorts, a total of up to 25 persons. The tours start at the Summer Riding School(located in the garden across the Castle Riding Hall). Tours commence at 10 am, 11 am, 1 pm, 2 pm and 3 pm. Noon break between 12 and 1 pm. This tour is not suitable for mobile beds.
Possibilities: Guided tour
Type of offer: for individuals and groups
Tour with a guide: Czech
Valid price list: 10.09.2011 - 10.09.2011
| | | |
| --- | --- | --- |
| Appropriation | Unit | Price per unit |
| Upravená II. prohlídková trasa - Státní hrad a zámek | | 0 CZK |
| | |
| --- | --- |
| Dates | From - To |
| 10.09.2011   (Sa) | 10:00 - 16:00 |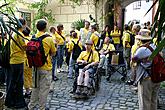 Self-guided viewing of the current exhibitions: from 10 am to 6 pm. Exhibitions: permanent documentary exhibition documenting the life and work of Egon Schiele. Egon Schiele Art Center is fully wheelchair accessible and open to handicapped visitors not only during the Handicap Day. For opening hours and more information please view www.schieleartcentrum.cz
Regional Museum Český Krumlov
| | |
| --- | --- |
| Dates | From - To |
| 10.09.2011   (Sa) | 10:00 - 16:00 |
Individual viewing of the Regional Museum in Český Krumlov - free of charge for registered event participants. The town's history is documented through extensive archeological, artistic, artisanal, ethnographic and industrial collections. The museum has almost 34 thousand items in its collection, including Gothic reliefs, folk items, a Baroque Jesuit pharmacy interior as well as a unique ceramic town model presenting the town center around the year 1800 in a scale of 1:200.
Group Tour of the Town - for Wheelchaired Persons
| | |
| --- | --- |
| Dates | From - To |
| 10.09.2011   (Sa) | 15:00 - 16:00 |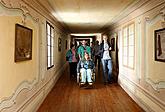 Group view of the town with a professional guide accompanied by volunteer assistants. The group will have max. 20 wheel-chaired persons plus their escorts. Guided tours start at the Svornosti square.
Touch Český Krumlov
| | |
| --- | --- |
| Dates | From - To |
| 10.09.2011   (Sa) | 13:00 - 14:00 |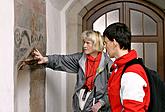 A group tour for the visually impaired. A commented walk around the town with the aid of assistants. There will be stops along the route allowing the visually impaired guests to learn interesting facts about the town and also directly touch the precious historical objects. Tours are free of charge for the visually impaired and their escort.
Possibilities: Guided tour
A Tour of the Underground Graphite Mine
| | |
| --- | --- |
| Dates | From - To |
| 10.09.2011   (Sa) | 15:00 - 16:00 |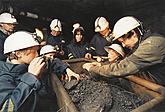 A tour of the mine aboard a special mine train under the supervision of expert guides. Clothes, shoes and protective means on loan. A maximum of 10 wheelchairs per tour and a maximum of 2 accompanying persons per one handicapped one.
| | |
| --- | --- |
| Dates | From - To |
| 10.09.2011   (Sa) | 10:00 |
| 10.09.2011   (Sa) | 11:00 |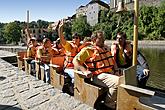 This is a fresh view of the historical town center of Český Krumlov from the river Vltava. Period boats are manned by two skilled boatmen. N.B. Boat rides will take place weather and water conditions permitting. Departure: Vltava sport service (Beneš Bridge) to Mrázek sluice, then up the mill-race to of the Mrázek mill, to the sluice under the Castle and back to the starting point (see drawing). The tours start every hour on the hour from 10 am to 4 pm. Boat rides take 30 to 40 minutes.
| | |
| --- | --- |
| Dates | From - To |
| 10.09.2011   (Sa) | 10:00 - 16:00 |
The exhibition Africa - Wild At Heart is the third and so far the largest National Geographic exhibition in the Czech Republic. Around 150 large scale photographs present many faces of Africa: Africa wild, cruel and beautiful where there is hunting, killing but also life, celebration and enjoyment. The photographic part of the exhibition is complemented by unique artifacts from the African nature, a large aquarium with Malawi lake endemic fish, a permanent projection of attractive National Geographic films and an exhibition of Zimbabwean stone sculptures. The exhibition has been installed in the impressive Minorite Monastery and it opens a unique medieval space to its visitors which is normally not accessible including the chapel with the "Black Madonna" of Český Krumlov. The exhibition has been installed on natural materials, in an effective contrast to the Gothic space. Together with a specially composed emotive music it creates a truly unique and deep experience. Free entry for registered participants of Handicap Day.
Jazz concert in the intenational festival Jazzky Krumlov
| | |
| --- | --- |
| Dates | From - To |
| 10.09.2011   (Sa) | 15:00 |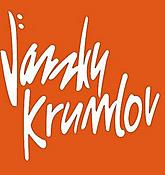 René Trossman Blues Band (usa/èr) | Silvia Josifoska Trio (čr/sr)
Milan Svoboda (čr) | Tonya Graves (usa/čr) | Alvik (usa/nor/čr)
Entertainment on the Svornosti square
Possibilities: Admission free, Barrier-free admission
Parking
There is free parking available for registered participants on the central parking lot Pr (located around 200 m behind parking lot P1 towards the direction of Chvalšiny opposite the winter stadium - see drawing) where visitors will receive parking cards entitling them to park on central parking lots P1, P2, P3, P4 and Pr on the day of the event. There are several other parking spots in the town reserved for the handicapped however this does not mean free parking. Parking cards issued to event participants are not universally valid for all parking lots and reserved parking spots but only for the above mentioned central parking lots with automated operation.
Registration of Individual Visitors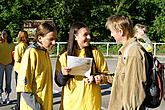 We recommend to all participants in the event to register as soon as possible and reserve their places for an event or tour of their choice and free parking. The capacity for some events is limited and therefore we can only guarantee a certain number of places. You can either use our on-line reservation form, or e-mail us at: handicap@ckrumlov.cz. If using the on-line form, please state in the notes section the following as additional information: type of handicap, no. of handicapped participants, no. of escorts, no. and registration numbers of the vehicles and other possible requests. You can of course participate also without prior registration just by showing up. However, guests with advance registration will have a priority.
Registration for Groups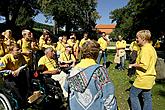 Institutions, organizations and organized groups can also use the on-line registration form. Please state in the notes section the following additional information about your group: contact details, total size of group, no. of handicapped participants, no. and registration numbers of the vehicles etc. You can also e-mail us at handicap@ckrumlov.cz
Volunteer Assistants Registration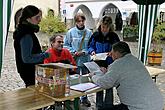 If you wish to help us as a volunteer assistant, please let us know at handicap@ckrumlov.cz. Our volunteers help as personal assistants (guides for the visually impaired, wheelchair assistance, personal escort etc.), servicing the stair climbers, giving out information about the event and about the town, preparing and cleaning up the various stations, helping with getting the handicapped from and into cars, rafts etc. It is a voluntary and therefore unpaid help. We can offer food for our assistants (lunch) and accommodation when required. As the total number of assistants required is limited, we reserve the rights to refuse some requests without a reason. The selected assistants will be contacted and informed using the contact details provided.
The event organizers have neither special accommodation possibilities at their disposal nor financial means available to cover the accommodation costs. We can offer you standard accommodation options and we trust you will be able to make your choice.
Thanks
State Castle Český Krumlov
Egon Schiele Art Centrum
Town Theatre Český Krumlov
Psychiatric Hospital Cerveny Dvur
VLTAVA sports service
Graphite Mine Český Krumlov
Rafting - Boat Maleček
Organizers
Kiwanis Club Český Krumlov
Town of Český Krumlov
Českokrumlovský rozvojový fond
Partners, sponsors