Services
>
Places to visit
>
Český Krumlov
>
Archive
>
Highlights 2011 - Archive
Historical reconstruction of the opera Dove è amore è gelosia at the Baroque Theatre at Český Krumlov Castle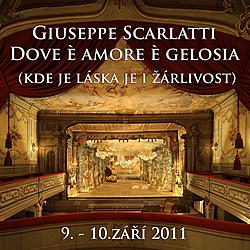 náměstí Svornosti 2
38101 Český Krumlov
Contact: Infocentrum Český Krumlov
Telephone: +420 380 704 614

E-mail: vstupenky@ckrumlov.cz
WWW: www.ckrumlov.cz/scarlatti

Location: Český Krumlov
Type: Highlights 2011 - Archive
Offered services:
Ticket and other booking
On-line ticket booking
It is not necessary to introduce the town Český Krumlov or the castle rising above the river. Including the town onto UNESCO's List of World Cultural and Natural Heritage exceptionality of this place was confirmed. A world unique, which has not any analogy in the world, is secreted from many visitors. At the castle complex stands the Baroque Theatre with completely preserved machinery, costumes and props.

Only limited visitors can look into this magic world of the Baroque Theatre and experimental performances are used to take place only for experts.

We are preparing in association with the Foundation of the Baroque Theatre and the State Castle Český Krumlov a unique performance, which would present this unique monument. For achievement of a maximum level of a prepared opera performance it is necessary to choose cooperation with renowned authors and performers, prepare demanding costumes and during realisation all rules for preservation an illusion of such admired baroque stage must be respected.
Dove è amore è gelosia /Where there is love, there is jealousy/
| | |
| --- | --- |
| Dates | From - To |
| 09.09.2011   (Fr)   Order | 19:00 |
| 10.09.2011   (Sa)   Order | 19:00 |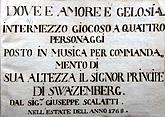 Comic opera
Libretto: Marco Coltellini
Performers: 4 soloists
Type of offer: for individuals and groups
Valid price list: 30.05.2011 - 10.09.2011
Appropriation
Unit
Price inc. VAT per unit
Dove è amore è gelosia /Where there is love, there is jealousy/ 10.9. 2011 19:00

balcony

ticket
1400 CZK
Dove è amore è gelosia /Where there is love, there is jealousy/ 10.9. 2011 19:00
ticket
950 CZK
Dove è amore è gelosia /Where there is love, there is jealousy/ 9.9. 2011 19:00
ticket
950 CZK
The opera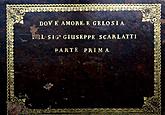 The historical documents about the whole celebrations and the performance of the opera have been preserved. These documents describe the beginning of the celebration with carriage-arriving accompanying with music for 2 French horns, 2 bassoons and 4 oboes.
"Wiener-Diarium" writes about the celebrations in Krumlov on 24th August 1768 under Political news among others: "On 24th July at noon a great table for 72 guests was arranged, in the evening a new italian opera by Mr Scarlatti was performed, which received with an exceptional praise, because it was really inventive."

There is preserved in the archive of the German orders a letter of the count Ludvik von Zinzendorf, brother in law of the wedding pair, who was presented in the celebrations in Český Krumlov, sent to his brother to Birmingham. He also describes these days in Krumlov such as " stay really brilliant" with "the celebrations enjoyable" and in full style of "great aristocracy".

Prager Postzeitung describes on 3rd September 1768, that on 24th July the opera was performed. The point is Giuseppe Scarlatti's "Intermezzo giocoso" "Dove e amore e gelosia", which, how it follows from the received donatives exemplars of the original score in Vienna and Český Krumlov, it was composed "on commission of His Majesty Prince Schwanzenberg."
Giuseppe Scarlatti
Naples 1718 – Vienna 1777

Italian composer, believed to be a nephew of Domenico Scarlatti. He probably lived in Rome from 1739, then in Florence and by 1744 Lucca. He and his wife Barbara, a singer, were in Vienna in 1748, but were soon back in Italy (two of his operas were heard in Venice in 1752), then briefly in Spain and Naples, but thereafter mainly in Venice and Vienna, where he was a ballet composer for the Kärntnertortheater. Further travels may have taken him to Italy and Spain in the mid-1760s, but later he worked for the Schwarzenberg family in Vienna - he was music teacher to members of Prince Schwarzenberg's family – the daughters of J. Adam zu Schwarzenberg.

He composed more than 30 operas, which were performed in many Italian cities and in Vienna; he was noted for his natural melodic gift, his ingenious handling of opera buffa aria form and his generally charming if simple style.
Studying and performing opera performances.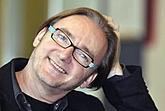 This opera is prepared by a director Ondřej Havelka. His experiences and realised opera projects are a guarantee of a brilliant conception complying with all historical aspects of the baroque theatre.

Vojtěch Spurný would be a musical director. He graduated at the Academy of Performing Arts in Prague /opera direction, conducting, harpsichord/ and at University in Utrecht /harpsichord and performing practice of an early music/. He worked among others at the Castle in Drottningholm. With the ensemble Musica Salutaris, he is its artistic leader, presented in 2000 at the castle theatre in Litomysl the Czech premiere of the first preserved opera of Jacop Peri – Euridice.

After many discussions we have decided for realising this project and further project at the Baroque Theatre to form an orchestra with a working name "Schwarzenberg´s orchestra". The best musicians will be inviting to collaboration and also young musicians will have a chance.

The soloists will be from the National Theatre, Prague – Kateřina Kněžíková, Jaroslav Březina, Aleš Briscein and Lenka Máčiková.