Services
>
Places to visit
>
Český Krumlov
>
Archive
>
Highlights 2016 - Archive
The Italian Courtyard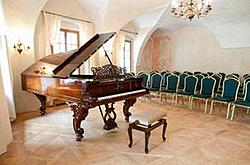 Dlouhá 32
38101 Český Krumlov
Contact: Helena Plachtová
Telephone: +420 737 378 336

E-mail: vlasskydvur@email.cz
WWW: www.vdck.cz

Location: Český Krumlov
Type: Highlights 2016 - Archive
The Italian Courtyard

is one of the most remarkable buildings in the historical centre of the city. The building was given its present appearance in the 16th century, when several Gothic houses were joined together. The whole building of Vlašský dvůr was restored very carefully in the year 2009. It, along with the guest house Pension St. Hubertus, is ownes by the Plachta family.

Therefore we would like to offer you our services in Café Vlašský dvůr, situated on the ground floor of the building. You can eat our delicious home-made cakes and enjoy the pleasant atmosphere in the open-air café in the courtyard.
Photogallery
Other offers: