Services
>
Places to visit
>
Český Krumlov
>
Galleries, studios
Egon Schiele Art Centrum
Široká 71
38101 Český Krumlov
Contact: Mgr. Hana Jirmusová, ředitelka Egon Schiele Art Centra
Telephone: +420 380 704 011
Fax: +420 380 711 191

E-mail: office@schieleartcentrum.cz
WWW: www.esac.cz

Location: Český Krumlov
Type: Galleries, studios
Offered services:
Ticket and other booking
On-line ticket booking
Renting of the rooms
Refreshment
Touristic souveniers for sale
The Egon Schiele Art Centrum owes its foundation in 1992/93 to the private initiative of three individuals who recognized the unique atmosphere after the fall of the Iron Curtain between the Eastern and Western Europe and have significantly contributed to the idea of creation of an international art center in one of Europe's loveliest Renaissance towns. The Egon Schiele Art Centrum houses an exhibition documenting the life and work of Egon Schiele as well as a permanent exhibition of his works. In addition, various rotating exhibits of both classical 20th century and contemporary art take place in the Centrum covering an area of 3000 sq.m. Another part of the museum has been developed into large art studios for long-term residing young artists coming from both Eastern and Western Europe. Art studios are leased on a 10-year basis to Ministries of Culture or various national art institutions. A writers' suite is also available. The Museum also houses a well-stocked Museum shop and a traditional café serving assorted Czech specialties and catering to both artists and art lovers alike. Since its opening in 1993, the Egon Schiele Art Centrum has become an internationally recognized and frequently visited institution. This is an entirely private initiative, its success stemming from a few individuals' immense dedication and funding from various sponsors, foreign grants and friends.
Accessibility by road:
Located in the historical centre of the town near the main square. Parking is possible on dedicated car parks, the closest being car parks P1 Jelenka and P3 Town Park. The centre itself is a pedestrian zone.
Valid price list: 01.01.2019 - 31.12.2019
| | | |
| --- | --- | --- |
| Appropriation | Unit | Price per unit |
| Adults | pers | 200 CZK |
| families (2 adults and max. 3 children) | fam. | 450 CZK |
| Seniors | per. | 150 CZK |
| Students, children, handicapped people (with identity card) | pers | 100 CZK |
ACTUAL
| | |
| --- | --- |
| Dates | From - To |
| 19.04.2019 - 26.01.2020   (Tu-Su) | 10:00 - 18:00 |
KAREL VALTER (1909 - 2006)
on the occasion of the 110th anniversary of the birth of Karel Valter, one of the most interesting personalities from South Bohemia, comes an exhibition of paintings, drawings and graphic art by this versatile artist.
"I do not regard the landscape as a variable entity, but I observe everything that forms in it and what is new and I look for everything that connects me as a man with nature, what excites and attracts me. When I say with nature, I mean more than merely the landscape itself, because in this way I come into contact with all the comprehensible and incomprehensible internal relationships that are set deeply and hidden within it , and these provide a richer response to our life, its value and its mystery. And this is also closest to the poeticization of all things that I have always succumbed to in my wanderings through the landscape." Karel Valter, Nature Label, 1999

KATEŘINA ŠEDÁ: UNES-CO / FINAL REPORT
The exhibition immediately follows on from the work with which Kateřina Šedá represented the Czech Republic at the 16th International Biennale of Architecture in Venice. UNES_CO's (fictitious) headquarters is moving to Český Krumlov for the duration of the exhibition, and Kateřina Šedá has further artistically developed the ideas and intentions of the company that aims to protect normal life in historically and architecturally magnificent (and therefore much visited) city centres. It maps the transformation of "normal life" in the public spaces of not only Český Krumlov, but also of many other European cities. It consists of the results of several months of surveys, interviews and debates from the field as well as non-standard solutions. It presents photos, film records, interviews, letters ... It presents essential - and a great deal of additional - information about the inhabitants and tourists, about their wishes and desires, but also about methods of communication between people and their ability to accept different opinions. In this context it touches on the phenomenon of direct and anonymous hatred on the one hand, and large (direct and anonymous) project support on the other.

FEDERICO DÍAZ (*1971)
The exhibition presents a selection from the work of Federico Díaz from 1992 onwards. The work of the successful Czech Argentine visual activist (Robert T. Buck, Brooklyn Museum, first used this term for Diaz´s work) is based on his interest in man, nature and science. The artist uses the simplest and most complex ways of uncovering things that we have ceased to perceive and which we are ceasing to understand because of technological overload. Federico Díaz is not afraid of excess technology; on the contrary, he considers it the most appropriate addition to the oldest human way of exploration - observation.
PERMANENT EXHIBITION
| | |
| --- | --- |
| Dates | From - To |
| 19.04.2019 - 26.01.2020   (Tu-Su) | 10:00 - 18:00 |
EGON SCHIELE
Permanent exhibition about the life and work of Egon Schiele (1890-1918),
whose mother, Marie Soukupová (1862-1935) was born in Krumlov. You can see drawings, graphics, the artist's own furniture, personal letters, business cards,
dozens of photographs, Schiele's family tree, documentation about his stays in Krumlov and the motifs on his paintings and drawings.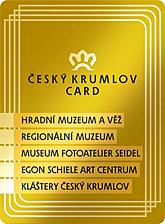 Want to see the best that Český Krumlov has to offer while taking your time to do it at your own pace? Then the Český Krumlov Card is just for you.

* admission to five unique attractions included in the price
* a 50 % saving off the regular ticket price
* card can be used for up to 12 months
* card is transferable to another person in the same category
* for sale at Tourist Information Centre Český Krumlov and at all participating
attractions
Valid price list: 01.01.2019 - 31.12.2019
Appropriation
Unit
Price per unit
Český Krumlov Card - Adult
pers.
300 CZK
Český Krumlov Card - family

2 adults + max. 3 children

family
600 CZK
Český Krumlov Card - reduced

children, seniors, students, handicapped

pers.
150 CZK