Services
>
Places to visit
>
Český Krumlov
>
Galleries, studios
Egon Schiele Art Centrum
Široká 71
38101 Český Krumlov
Contact: Mgr. Hana Jirmusová, ředitelka Egon Schiele Art Centra
Telephone: +420 380 704 011
Fax: +420 380 711 191

E-mail: office@schieleartcentrum.cz
WWW: www.schieleartcentrum.cz

Location: Český Krumlov
Type: Galleries, studios
Offered services:
Ticket and other booking
On-line ticket booking
Renting of the rooms
Refreshment
Touristic souveniers for sale
The Egon Schiele Art Centrum owes its foundation in 1992/93 to the private initiative of three individuals who recognized the unique atmosphere after the fall of the Iron Curtain between the Eastern and Western Europe and have significantly contributed to the idea of creation of an international art center in one of Europe's loveliest Renaissance towns. The Egon Schiele Art Centrum houses an exhibition documenting the life and work of Egon Schiele as well as a permanent exhibition of his works. In addition, various rotating exhibits of both classical 20th century and contemporary art take place in the Centrum covering an area of 3000 sq.m. Another part of the museum has been developed into large art studios for long-term residing young artists coming from both Eastern and Western Europe. Art studios are leased on a 10-year basis to Ministries of Culture or various national art institutions. A writers' suite is also available. The Museum also houses a well-stocked Museum shop and a traditional café serving assorted Czech specialties and catering to both artists and art lovers alike. Since its opening in 1993, the Egon Schiele Art Centrum has become an internationally recognized and frequently visited institution. This is an entirely private initiative, its success stemming from a few individuals' immense dedication and funding from various sponsors, foreign grants and friends.
Accessibility by road:
Located in the historical centre of the town near the main square. Parking is possible on dedicated car parks, the closest being car parks P1 Jelenka and P3 Town Park. The centre itself is a pedestrian zone.
Valid price list: 01.01.2018 - 27.01.2019
| | | |
| --- | --- | --- |
| Appropriation | Unit | Price per unit |
| Adults | pers | 180 CZK |
| families (2 adults and max. 3 children) | fam. | 420 CZK |
| Seniors | per. | 130 CZK |
| Students, children, handicapped people (with identity card) | pers | 90 CZK |
ACTUAL
| | |
| --- | --- |
| Dates | From - To |
| 01.11.2018 - 27.01.2019   (Tu-Su) | 10:00 - 18:00 |
We are preparing several solo exhibitions for 2018 under the title VIEW OF WOMEN:

● MARIE BLABOLILOVÁ (*1948)
In spite of its specific minimalism, the work of Marie Blabolilová arouses strong emotions; the painter and graphic artist is able to "describe" time in the simplest terms whether it is a matter of the 1960s or the present day. Her extensive retrospective exhibition includes graphics, drawings and paintings that focus on the 1960s. Part of the installation will also be made up of i.a. furniture from this era, linoleum and glass and the like with served as sources of inspiration, but also as working materials.
Duration: 30. 3. 2018 - 27. 1. 2019

● MAGDALÉNA CHAYA RAJNIŠOVÁ (*1958)
After long-term residences abroad (Switzerland, France, Ireland, New Mexico, Italy, Israel and others) the painter returned to the house of her birth in Kladno. Her life, which has not always been easy, has materialized in her pictures whereby the "memory of the places" she lived in assumes a fundamental role. Her themes are: the desert and light, but also biblical motifs. Her work for the theatre is of significance (Forman Brother's Theatre, Theatre 58 in Zürich, Taos Theatre Company in New Mexico) or cooperation with archaeologists in Israel.
Duration: 30. 3. 2018 - 27. 1. 2019

● TOYBOX
The artist is best known for her street art projects as well as for her cooperation with the socially excluded and Roma children; she is also appreciated as an illustrator. She will present a work on the spot that will deal with the phenomenon of Český Krumlov, together with her long-term efforts to help people and animals as well (she is a dedicated animal rights activist), but also with her new role as a mother of twins.
Duration: 30. 3. 2018 - 4. 11. 2018

● EVA IŠKOVÁ PROKOPCOVÁ (*1948)
The expressive painting of the South Bohemian recluse Eva Prokopcová was already displayed to tens of thousands of our visitors a decade ago. The exhibition for 2018, which is currently being prepared, is characterized by the fact that the artist lets us look into the unfortunate fate of of her family that was separated forever after 1948: the parents decided to emigrate with their infant, but the baby came down with a fever so the mother remained in Czechoslovakia with the child and only the father could flee through the Bohemian Forest. The family never met again.
Duration: 1. 6. 2018 - 27. 1. 2019

● ANNA MACKOVÁ (1887 - 1969)
The exhibition mainly shows Anna Macková's graphic work and life story which are both characteristic of the fate of women/artists in the first half of the 20th century. A.M. came from a wealthy family – estate owners in Studeňany. Quite unusually for a girl of her time, she fought for and won the opportunity to study portraiture, still life and landscape painting at Karl Reisner's School in Prague from 1909-1911 and later graphics under František Horký. In 1918 she met her man of destiny, Josef Váchal; they travelled together, inspired each other and thought out new approaches to coloured woodcuts. She supported the these days much better known Josef Váchal with substantial financial assistance. Their health was seriously affected by the fact that Anna Macková's family farm, where they lived during the Second World War, was gradually confiscated after 1948.
Duration: 1. 8. 2018 - 27. 1. 2019

● IKUKO MIYAZAKI (*1954)
The Japanese artist from Okinawa first encountered Egon Schiele's work in November 1995; it made a very strong impression on her. Her subsequent studies of Schiele's life and work soon grew into artistic creations inspired by the famous work of the Austrian painter. First of all she began to transform Schiele's self-portraits into three-dimensional objects to gradually bring the characters around Schiele back to life - especially the women whom the artist had drawn and painted over a hundred years ago. Next year works of varying proportions and varying degrees of inspiration will not only commemorate Schiele's premature death, but also the inspirational power of his work, which even after a hundred years influences artists from all over the world.

● BERNADETTE HUBER (*1962)
The Austrian artist Bernadette Huber worked in our studios (including Schiele's Garden Studio) in February, March and April. Her animated film "Schiele 2018", which was created here, will be presented in an ESAC exhibition hall.

● KATEŘINA ŠEDÁ (*1977)
The new project from this interesting and successful Czech artist is very unusual, yet witty and responds to a remarkable global phenomenon of recent times - the overcrowding and emptying of the most desirable world tourist centres. These places are often historical and architectural jewels on the UNESCO World Heritage List, which are being "gradually cleansed" of their normal urban / rural infrastructure and finally even of their original inhabitants by the flood of hundreds of thousands or even millions of tourists.
PERMANENT EXHIBITION
EGON SCHIELE
Permanent exhibition about the life and work of Egon Schiele (1890-1918),
whose mother, Marie Soukupová (1862-1935) was born in Krumlov. You can see drawings, graphics, the artist's own furniture, personal letters, business cards,
dozens of photographs, Schiele's family tree, documentation about his stays in Krumlov and the motifs on his paintings and drawings.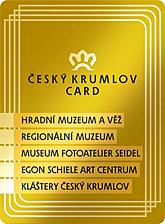 Want to see the best that Český Krumlov has to offer while taking your time to do it at your own pace? Then the Český Krumlov Card is just for you.

* admission to five unique attractions included in the price
* a 50 % saving off the regular ticket price
* card can be used for up to 12 months
* card is transferable to another person in the same category
* for sale at Tourist Information Centre Český Krumlov and at all participating
attractions
Valid price list: 01.01.2018 - 27.01.2019
Appropriation
Unit
Price per unit
Český Krumlov Card - Adult
pers.
300 CZK
Český Krumlov Card - family

2 adults + max. 3 children

family
600 CZK
Český Krumlov Card - reduced

children, seniors, students, handicapped

pers.
150 CZK
Photogallery