Services
>
Places to visit
>
Region of Český Krumlov
>
Trips around Český Krumlov
>
Castles, chateaus, ruins
Červený Dvůr Castle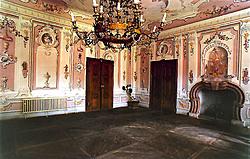 Červený Dvůr 1
38101 Chvalšiny
Contact: Psychiatrická léčebna
Telephone: +420 380 309 135

E-mail: prijem@cervenydvur.cz
WWW: www.cervenydvur.cz/

Location: Region of Český Krumlov
Type: Castles, chateaus, ruins
Červený Dvůr Castle - Rococo chateau, surrounded by English gardens - presently the Chateau houses a psychiatric rehabilitative center
Accessibility by road:
The Červený Dvůr castle is located 8 km to the north-west of Český Krumlov, on the south-east foothill of Kleť Hill near-by the road connecting Český Krumlov and Chvalšiny.
Now the spacious area consists of the castle building itself that together with adjacent out-buildings closes a big rectangular courtyard and further the remarkably spacious landscaped park (Červený Dvůr Castle - Park) of an area of 15 hectares with a number of preserved garden buildings and fountains in the Romantic style. The Baroque castle is an rectangular, one-wing building, the front side is divided by a salience with a balcony, which ends in a triangular shield and is covered with an attic roof. The facade is articulated by lesenas. Cylindrical and groined vaults are on the ground floor, the room on the first floor has a flat ceiling.

It is said that the name of Červený Dvůr was not derived from the colour of the roof (as it was in the case of Červená Lhota castle) but it is only a mutilation of the German word to clear a place of something - before "rothen", now "roden". The so-called new yard of Chvalšiny was founded in the end of the 16th century probably on a cleared place.
The garden of the castle in Červený Dvůr is mentioned for the first time in 1598 - at that time it was a reserve established by Peter Wok von Rosenberg to
Mansion Červený Dvůr, park, house from tree bark - detail of wall
bread beavers, pheasants, partridges and quails.

The castle park in Červený Dvůr takes over 105 hectares of the landscaped park situated in both the close environs of the castle and inside of the castle courtyard and also extensive free areas spread out to the south-east of the main castle building.

The boarder of the park is formed by the road coming from Český Krumlov to Chvalšiny on the south-west, by a stream on the south-east, by nursery area on the north-east and a local road on the north-west.

An average height above sea level is 550 metres. The whole castle area including the park is situated within the region of Preserved Area of Blanský les.