Services
>
Places to visit
>
Český Krumlov
>
Archive
>
Highlights 2012 - Archiv
New Year´s Eve in Český Krumlov - 2012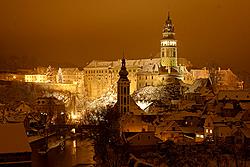 Náměstí Svornosti 2
38101 Český Krumlov
Contact: Infocentrum Český Krumlov
Telephone: +420 380 704 622

E-mail: silvestr2012@ckrumlov
WWW: www.ckrumlov.cz/silvestr2012

Location: Český Krumlov
Type: Highlights 2012 - Archiv
List of offers:
Do not sit at home on New Year's Eve! Say goodbye to this year with grace and grand welcome the new year! Whether you are looking for a quiet, unique location for celebration in the narrow circle of their relatives or the place where it lives and the fun is in full swing, head to Český Krumlov.

Český Krumlov town saying goodbye to year 2012 and welcome a new, culturally rich year 2013. If you prefer a quiet, peaceful celebration, so you can choose one of the pleasant Český Krumlov hotels or guesthouses. To celebrate the new year, however, caught up in the fun, come to the city center. In addition to your local hotels, restaurants, pubs and bars have prepared excellent New Year's menu of Czech and foreign specialties. Your New Year's Eve you can still enrich the thematic tour of the city, which takes you back to Christmas customs and stories, or New Year's Eve concert. Český Krumlov museums and galleries will also certainly welcome with joy.
| | |
| --- | --- |
| Dates | From - To |
| 01.01.2013   (Tu) | 10:30 - 15:00 |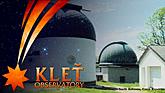 Kleť Observatory is one of the foremost locations in the world for the tracking and discovery of comets and other terrestrial bodies. Visitors joining the guided tour are explained Kleť Observatory research programme and its results and see a permanent exhibition of astronomical photographs taken at the observatory including a long-term exhibition.
Type of offer: for individuals and groups
Hotel Golden Angel ****

Pension-Restaurant Štilec
Restaurant Petr Vok

Restaurant Konvice

Restaurant Švamberský dům

Restaurant Jakub

Pizzeria UNO

Restaurant Gotika