Services
>
Places to visit
>
Český Krumlov
>
Archive
>
Highlights 2013 - Archiv
St. Valentine in Český Krumlov
Náměstí Svornosti 2
38101 Český Krumlov
Contact: Infocentrum Český Krumlov
Telephone: +420 380 704 622

E-mail: info@ckrumlov.cz
WWW: www.ckrumlov.cz/info

Location: Český Krumlov
Type: Highlights 2013 - Archiv
List of offers:
Surprise your loved one with an unforgettable Valentine's weekend!

Escape from the stress and trivialities of everyday to a unique place where you can spend time with each other. Come to Český Krumlov. The picturesque little streets and hidden corners of this medieval town are ideal for romantic walks. Especially in this time of the year when you encounter only a handful of tourists you can enjoy undisturbed quality time together.
| | |
| --- | --- |
| Dates | From - To |
| 09.02.2013 - 10.02.2013   (Sa-Su) | 09:00 - 15:00 |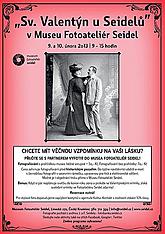 Do you want to have an everlasting memory of your love? COME WITH YOUR PARTNER to Museum Photo Studio Seidel!

Shooting without tour: 70, - CZK
Each other picture: 60, - CZK
Shooting with a tour: pair for 200, - CZK, the others for the usual price + 50, - CZK
Where: Museum Fotoatelier Seidel, Český Krumlov
| | |
| --- | --- |
| Dates | From - To |
| 01.01.2013 - 31.12.2013   (Mo-Su) | |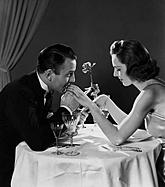 Are you wondering, how to celebrate the St. Valentine's Day with your love? Try our gift-day in Český Krumlov. You´ll see a unique exposition of the Museum Photo Studio Seidel, where you´ll get as a commemoration the original thematic photo portrait (13 x 18 cm) in period costumes and scenes. Because the love goes through the stomach, another part of programme lies in the Hotel Golden Angel **** on Svornosti square. There you´ll taste a Rosenberg menu prepared by the chef of the Restaurant. You can also enjoy a walk through the city with an audioguide (headphone).
Valid price list: 08.02.2013 - 17.02.2013
Appropriation
Unit
price per unit
Gift-day in Český Krumlov

Gift-Day includes: Rosenberg menu (please specify in the note desired time); photo portrait and tour through Museum Photo Studio Seidel, Audioguide. If you wish to book it for more persons, please state this requirement in the note. We accept orders of at least 10 days in advance.

2 persons
1790 CZK
| | |
| --- | --- |
| Dates | From - To |
| 01.01.2013 - 31.12.2013   (Mo-Su) | |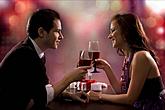 Treat your loved ones with an unforgettable stay in a fabulous city! Choose among the three options – all of them are priced for 2 persons and for 2 nights stay. These trips will introduce the essence of Český Krumlov to its visitors. This could be a splendid gift idea for your loved one, your friend, Mum or Grandmother. And it is not only men who may present gifts. In offer you can enjoy a visit of four unique expositions, an original photo portrait in costume, an exceptional culinary experience, mysterious medieval city tour or a relaxation in the wellness centre.
Valid price list: 08.02.2013 - 17.02.2013
Appropriation
Unit
price per unit
Inspiring Krumlov

We accept orders of at least 14 days before the date of arrival. Indicate the day of arrival. Krumlov inspiring includes: two nights in the guesthouse, four expositions, photo portrait in costume and a gift.

2 persons
2999 CZK
Noble Krumlov

We accept orders of at least 14 days before the arrival. Indicate the day of arrival. Krumlov noble includes: two nights in the guesthouse, four expositions, portrait in costumes plus the option - city guide or Rosenberg menu

2 persons
4199 CZK
Royal Krumlov

We accept orders of at least 14 days before arrival. Indicate the day of arrival. Royal Krumlov includes: two nights in the guesthouse, four expositions, photo portrait in costumes, Rosenberg menu and city guide plus the option - wellness centre or wine tasting

2 persons
6499 CZK
* Hotel Peregrin
* Hotel - Restaurant Švamberský dům
* Restaurant Švamberský dům
* Medieval tavern in Šatlavská Strasse
* Restaurant Maštal
* Papa´s Living Restaurant
* Restaurant Petr Vok
* Pub U klobouku
* Hotel Růže
* Hotel Old Inn