Services
>
Places to visit
>
Český Krumlov
>
Museums
Moldavite Museum
Panská 19
38101 Český Krumlov
Contact: Vít Kršul
Telephone: +420 734 174 130

E-mail: info@vltaviny.cz
WWW: www.vltaviny.cz

Location: Český Krumlov
Type: Museums
Offered services:
Ticket and other booking
Refreshment
Touristic souveniers for sale
Left-luggage office
Further Information:
South Bohemian moldavites - the only precious stones in the world created by a meteorite impact. Stunning interactive exhibition fully in English, incl. movie.
We sell also gift-tickets and vouchers for stones and jewellery from our shop...
Moldavite museum - open every day
| | |
| --- | --- |
| Dates | From - To |
| 01.01.2019 - 31.12.2019   (Mo-Su) | 10:00 - 18:00 |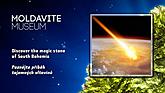 The globally unique semi-precious stones appeared 15 million years ago during the impact of an enormous meteorite on the territory of what is today Bavaria, from where the catastrophic explosion disbursed them up to a distance of 400 km. In Southern Bohemia, the ancients found pieces of green glass in the fields, but their origin remained a mystery for a long time. Visitors can enjoy the story of the Moldavites in the museum's modern interactive exhibit.
Possibilities: Possibility to arrange a tour out of the opening hours, Possibility of EUR payment
Where: Moldavite museum, Panská 19, Český Krumlov
Lending of reading material available: Czech, German, English, French, Spanish, Russian, Dutch
Tour leader for free for groups from … persons 10 persons
Valid price list: 01.01.2019 - 31.12.2019
Appropriation
Unit
Price per unit
Discounted price

Students, Pensioners, Disabled...

person
99 CZK
Regular price
person
149 CZK
PROMOTION - discount 50 Kč (2 EUR)
Our museum is brand new and we need to know, how shall we inform the visitors, we are open. So we kindly ask you to print the simple form below, fill it out and bring it with you to the mueseum. You will get discount of 50 Kč from the standard price.
Possibilities: Possibility to arrange a tour out of the opening hours, Possibility of EUR payment
Type of offer: for individuals
Lending of reading material available: Czech, German, English, French, Spanish, Russian, Dutch, Other languages (see the description)
Tour leader for free for groups from … persons 10 persons
Further Information: How did you find us - FORM [PDF 50 kB]
Photogallery