Services
>
Places to visit
>
Český Krumlov
>
Archive
>
Highlights 2015 - Archive
BLACKMORE´S NIGHT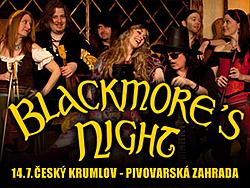 náměstí Svornosti 2
38101 Český Krumlov
Contact: Infocentrum Český Krumlov
Telephone: +420 380 704 622

E-mail: tickets@ckrumlov.info

Location: Český Krumlov
Type: Highlights 2015 - Archive
Concert "BLACKMORE'S NIGHT"
| | |
| --- | --- |
| Dates | From - To |
| 14.07.2015   (Tu)   Order | 19:00 |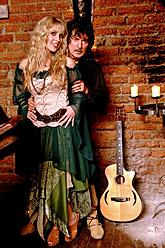 Blackmore's Night 14 July 2015

Ritchie Blackmore returns to the Czech Republic after a year with his Blackmore's Night project. Join us on a mysterious journey with Blackmore's Night – this time in the charming environment of the Brewery garden in Český Krumlov.

Blackmore's Night project began in 1997 when the British guitarist Ritchie Blackmore began to collaborate with his life partner the American singer Candice Night.
Blackmore successfully combines all seemingly disparate elements of medieval music with its romanticism and mysticism into a distinctly unique style by using both acoustic and electric guitars, string instruments and a number of various Renaissance musical instruments and with the expressive support of Candice's seductive vocals.

When he performed in the bands Deep Purple and Rainbow he cleverly inserted his passion into his interpretation of energetic style rock music. In his present Blackmore's Night project this became a fixed and very evident element.

Ritchie, the vocalist Candice and their band will present pieces from all previously released LPs. Their latest release was the 2013 album "Dancer and The Moon". This is their ninth studio album containing the singles "The Moon Is Shining" and "Dancer and The Moon".

Tickets are available at the Ticketpro network or in the INFO CENTRE Český Krumlov.