Services
>
Places to visit
>
Český Krumlov
>
Culture, events
CARNIVAL IN KRUMLOV 2017
náměstí Svornosti 2
38101 Český Krumlov
Contact: Infocentrum Český Krumlov
Telephone: +420 380 704 622

E-mail: info@ckrumlov.info

Location: Český Krumlov
Type: Culture, events; Highlights
The old tradition of Shrove Tuesday folk festivals has been revived along with its typical Carnival featuring a procession of colourful masks, street plays, conjurers, and musicians, as well as an abundant feast and dancing because Shrovetide marks the end of the festive season and the beginning of Lent.
CARNIVAL FEAST
| | |
| --- | --- |
| Dates | From - To |
| 25.02.2017   (Sa) | 14:00 |
Please accept our invitation for the traditional carnival feast taking place in the Eggenberg Brewery.

The event schedule includes:

* Carnival procession
* Pork delicacies
* Stalls with traditional specialties
* Live performance by Nakřáplý šišky
* Children's playpen

FREE ENTRY

Organized by: Sdružení cestovního ruchu Český Krumlov, z.s.
CARNIVAL PROCESSION THROUGH THE TOWN
| | |
| --- | --- |
| Dates | From - To |
| 28.02.2017   (Tu) | 16:00 |
Programme is subject to change
Tradition
The time between the Three Kings and Ash Wednesday has traditionally been the carnival period. During the carnival there were feasts taking place on the royal court, dancing entertainments held in the towns and in the villages there were traditional pig specialties prepared. Carnival was a time of indulgence, in preparation for the fasting period that followed. The masquerade celebration, usually taking place on Carnival Tuesday, that is the Tuesday before Ash Wednesday, has always been the highlight of the carnival. On Ash Wednesday people still ate greasy rolls with coffee or milk and in the morning, liquor was still permitted. Lunch was already in the spirit of the fasting period: lentils with eggs, cheese, bread, boiled grits, and baked potatoes.

Ash Wednesday is the first day of the fasting period. It falls on the 40th day before Easter (Sundays do not count). As the date for Easter is a moving one, Ash Wednesday also falls on a different date each year. The name Ash Wednesday is derived from the habit of burning palms or branches with flower buds from the Flower Sunday of last year. Ashes from the burning are used during the Ash Wednesday church service when the church attendants are marked with these ashes on their brows. This symbolic marking with ashes refers to the Middle Eastern tradition of throwing ashes over one's head as a sign of atonement before God.
The programme traditionally includes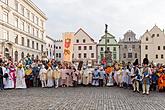 Pig-slaughtering

Carnival feasts

Carnival procession through the town