Services
>
Places to visit
>
Český Krumlov
>
Culture, events
>
Highlights
Revolving Auditorium 2018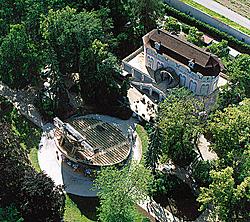 Náměstí Svornosti 2
38101 Český Krumlov
Contact: Infocentrum Český Krumlov
Telephone: +420 380 704 621
Fax: +420 380 704 626

E-mail: tickets@ckrumlov.info
WWW: www.otacivehlediste.cz

Location: Český Krumlov
Type: Highlights
The legendary Revolving Auditorium is set in the Castle Gardens, providing you an unforgettable experience of performances such as Robin Hood, Freischütz, Beauty and the Beast.
Dracula / B. Stoker - horor story
| | |
| --- | --- |
| Dates | From - To |
| 06.06.2018 - 23.06.2018   (Tu-Su) | |
Decameron / Giovanni Boccaccio - comedy
| | |
| --- | --- |
| Dates | From - To |
| 27.06.2018 - 07.07.2018   (Tu-Su) | |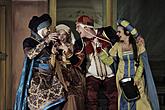 The famous work of the renaissance poet Giovanni Boccaccio. A comedy about love, jealousy, intriguers and the cheated, full of unexpected surprises, by the authors Martin Glaser and Olga Šubrtová, directors of other plays that have achieved high popularity with the audiences: The Three Musketeers, Robin Hood and The Wives of Henry VIII.
Rusalka / Antonín Dvořák - opera
| | |
| --- | --- |
| Dates | From - To |
| 10.07.2018 - 15.07.2018   (Tu-Su) | |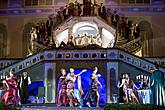 Dvořák's most lyrical work about an impossible desire cannot find a better place than in front of the Revolving Auditorium. It has been at home there for over half a century. For the world, Rusalka is a gem of Czech culture – not only for its captivating music but also as a symbolical story about the victory of the power of love and sacrifice. In this way it is staged in the production of the conductor Mario De Rose and the director Jiří Heřman with an outstanding cast of Czech and Slovak singers.
Il trovatore / Giuseppe Verdi - opera
| | |
| --- | --- |
| Dates | From - To |
| 18.07.2018 - 29.07.2018   (Tu-Su) | |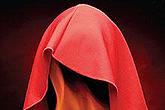 The drama of a fatally mistaken identity and burning passion, situated in Spain, is literally full of the greatest operatic hits. The opera will be staged in the Italian original, directed by Tomáš Studený with Mario De Rose's musical production and an international cast of singers.
Valmont / L. Vaculík - F. Schubert, P. Vasks - ballet
| | |
| --- | --- |
| Dates | From - To |
| 01.08.2018 - 05.08.2018   (We-Su) | |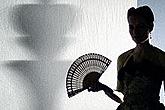 The Marquise de Merteuil and the Vicomte de Valmont meddle into other people's fates for their own amusement and set a system of wheels in motion that ends up crushing them. In the long run, not only the innocent victims pay for their cynical attitude to morals and human responsibility but also their hunters. This well-known story on the dividing line between dance theatre and drama will be created by the choreographer Libor Vaculík on the music of Franz Schubert and P. Vask.
The Cunning Little Vixen / Leoš Janáček - opera
| | |
| --- | --- |
| Dates | From - To |
| 08.08.2018 - 11.08.2018   (We-Sa) | |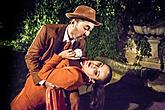 Janáček's most popular opera – a musical jewel about animals and humans and reconciliation with the eternal cycle of life – will be directed for the first time in front of the Revolving Auditorium by the SKUTR duo. Mario De Rose's musical production aims to address by means of exaggeration and spectacle audiences both young and old.
The Hound of the Baskervilles / A. C. Doyle - detective comedy
| | |
| --- | --- |
| Dates | From - To |
| 14.08.2018 - 02.09.2018   (Tu-Su) | |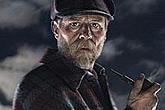 Following the puzzling death of Sir Charles Baskerville on the grounds of his country house, the net is becoming even tighter around his heir. Will Sherlock Holmes and his faithful Watson succeed in stopping the devilish hound? Sherlock Holmes' most famous case, directed by Petr Zelenka.

Sherlock Holmes is coming! Even your dog is going to be scared!
Lost world / A. C. Doyle - comedy
| | |
| --- | --- |
| Dates | From - To |
| 21.06.2018 - 09.09.2018   (Tu-Su) | |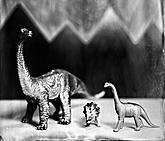 ADVANCE SALES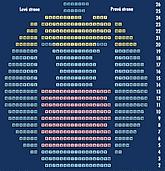 INFOCENTRUM ČESKÝ KRUMLOV:
Náměstí Svornosti 2
381 01 Český Krumlov
Tel.: +420 380 704 621
Fax: +420 380 704 619
e-mail: info@ckrumlov.info
www.ckrumlov.info/infocentrum

POKLADNA JIHOČESKÉHO DIVADLA:
Dr. Stejskala 23
370 47 České Budějovice
Tel.: +420 386 356 643 – hromadné objednávky, +420 386 356 925 – pokladna
Fax: +420 386 355 640
e-mail: vstupenky@jihoceskedivadlo.cz
www.jihoceskedivadlo.cz
About Open-air Theater with Revolving Auditorium
An experimental scene - there are no other words to characterize this project which was born in the mind of script-writer Joan Brehms, who worked after 1945 as a chief art designer in a České Budějovice theater. The first improvised revolving stage first turned in 1958 so that sixty spectators could see the play Lantern by Jirásek.

The original revolving stage was driven by human power, but not many people knew about it at that time. The first night was such a success that 22 performances followed and as can be seen, it was the first step in establishing a tradition of modern summer seasons in the Open-air Theater.

We must point out that a great deal of the success was guaranteed by the beautiful surroundings of the night Castle Gardens in Český Krumlov and the use of the Bellarie summer manor, the most valuable building of garden architecture in Bohemia. The garden, summer-house and fairy-tale surroundings of the darkened night garden were the first attributes of the theatre's present success.

As time passed, the techniques changed. The present revolving stage is driven by electric motors and can hold more than 650 spectators. But the modernization did not take anything away from the magic of the surroundings where the summer theatrical seasons in Český Krumlov take place. The sold-out performances of the past years speak plainly for these natural theatrical performances. There are some voices in opposition, those who do not like the authentic historical spaces of the Baroque garden to be affected by this "commercial attraction". Some theater critics like to point out the slightly truckling tone of performances, which tned to be chosen with regard to foreign tourists.

This does not change the fact that the revolving stage will be preserved and in the following years will bring the same experiences as used to exist in the atmosphere of ancient amphitheaters. There is nothing else to compare with the performances in Český Krumlov with. Every visitor of the town can find this out for himself. In spite of all the struggles we can claim: "It still turns!"
Activities - accommodation - guide service - tickets

Infocentrum Český Krumlov
náměstí Svornosti 2
381 01 Český Krumlov
tel.: +420 380 704 622
e-mail: info@ckrumlov.info
www.ckrumlov.info/infocentre

Location on the map | Google Street View
GPS: 48°48'38.91" 14°18'55.44"