Services
>
Places to visit
>
Český Krumlov
>
Culture, events
>
Highlights
EUROPEAN HERITAGE DAYS IN ČESKÝ KRUMLOV (EHD 2018)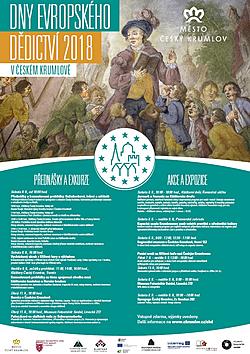 náměstí Svornosti 1
38101 Český Krumlov
Contact: Filip Putschögl
Telephone: +420 380 766 314

E-mail: filip.putschogl@mu.ckrumlov.cz
WWW: www.ckrumlov.cz/ehd

Location: Český Krumlov
Type: Highlights
European Heritage Days render a unique and one-of-a-kind opportunity to see usually inaccessible places of major historical monuments and to become familiar with the processes involved in their conservation and restoration.

In accompanying expert lectures, visitors may learn many interesting facts relating to construction history and current findings.

7. - 11. 9. 2018
| | |
| --- | --- |
| Dates | From - To |
| 08.09.2018   (Sa) | 10:00 - 18:00 |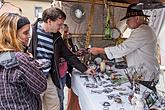 Come and learn new skills from our craftsmen and work with them to create a traditional artisanal product together with your children, partners or friends. You can also buy finished artisanal products from our craftsmen. Fee aplies in form of monastery coins (1 coin = 10 CZK)
Possibilities: Admission free
| | |
| --- | --- |
| Dates | From - To |
| 08.09.2018 - 09.09.2018   (Sa-Su) | |
The merchant settlement of Krumbenowe will open its gates for the fifth time to allow visitors sample prehistoric and medieval times. The topic of this jubilee year is "Feast of the Past" and so everything will revolve around traditional ways of nourishment and feasts, celebrations and rituals which have been bound to food from the beginning of our times. Visitors can look forward to a varied selection of artisanal demonstrations, historical performances, lectures and workshops. There will also be theme-related contests for children and a traditional exposition of original archaeological finds called Museum in the Garden. A joint feast spanning several eras will be the pinnacle of the programme, culminating on Saturday evening with a musical performance by the band Vesna. This educational and entertaining event is barrier free, open to all age categories and entry is entirely free of charge.
Possibilities: Admission free
| | |
| --- | --- |
| Dates | From - To |
| 08.09.2018   (Sa) | 09:00 - 12:00 |
| 08.09.2018   (Sa) | 12:30 - 17:00 |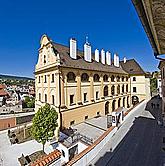 on September 8th, during the Europian Heritag Days FREE ENTRY

Actual exhibitions:
- From World War One To The Republic
- Sixty-Eight In Český Krumlov And Its Surroundings
Permanent expositions:
- The Historic Presentation of the Cesky Krumlov Region from Prehistory to the End of the 19th century"
- Ceramic model of the historic center of Cesky Krumlov
Possibilities: Admission free
CHAPEL ON THE CROSS MOUNTAIN
| | |
| --- | --- |
| Dates | From - To |
| 07.09.2018 - 09.09.2018   (Fr-Su) | 13:00 - 18:00 |
| 15.09.2018   (Sa) | 16:00 |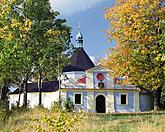 7. - 9. 9. TOURS OF THE AREAL
The premises are open for public; the cellar under the hermitage is especially open to public as part of the European Heritage Days.

15. 9. (SA) - A festive mass sung in Latin will take place on the Feast of the Elevation of the Holy Cross.
Possibilities: Admission free
| | |
| --- | --- |
| Dates | From - To |
| 08.09.2018 - 09.09.2018   (Sa-Su) | 09:00 - 18:00 |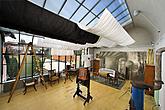 Unique place where tradition of photography sprang up in the 19th century, place where Time stood still.

The Josef and Frantisek Seidels' studio exposition will surprise by its authenticity, its wealth of unique period images, post-cards and glass-plate negatives, and the well-preserved, functioning cameras, enlargers and darkroom equipment. This outstanding collection is enhanced even further by Seidel's personal notes, diaries, cutomer records, and the original furniture and fixtures in the house.

On September 8th and 9th during the Europian Heritage Days - 50% discount from the usual entry fee.
| | |
| --- | --- |
| Dates | From - To |
| 08.09.2018 - 09.09.2018   (Sa-Su) | 10:00 - 18:00 |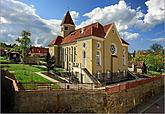 Built in Nouveau-Romanesque style in 1909 by the local Jewish community, the Cesky Krumlov Synagogue features an eight-sided tower with Torah-shaped windows.

In 1945 it was used as an non-denominational Christian church for the American soldiers. A symbol of the U.S. Army preserved on a wall of the prayer hall serves as a reminder of this. From 1945 - 1968 the synagogue was used by the Czechoslovakian Hussite Church.
Possibilities: Admission free
About European Heritage Days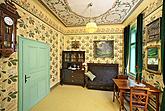 European Heritage Days render a unique and one-of-a-kind opportunity to see usually inaccessible places of major historical monuments and to become familiar with the processes involved in their conservation and restoration. In accompanying expert lectures, visitors may learn many interesting facts relating to construction history and current findings.

Every year, usually during the second weekend of September, the doors of the most interesting monuments, buildings, premises and areas are opened to the public. That includes those that are otherwise partly or totally inaccessible.

The prior aims of this event are: to improve information about other cultures; to protect cultural heritage in the broadest sense of the word; to respect all cultures regardless of their spread and to work for a multi-cultural approach; to regard cultural heritage as an asset which can be used in the struggle against intolerance and bigotry; to support an open and free view of culture, which has an effect not only on economic development, but also on the sustainable development of human society.

The European Heritage Days are to bring Europeans closer to their cultural heritage, and to help protect cultural monuments, something that requires an enhancement of the prestige of private and public institutions of monument protection. Last but not least, the purpose of EHD is to support a more open attitude to others (combating xenophobia and racism, searching for one´s own identity, strengthening common memory), and also to contribute to a re-assessment and explanation of the political, social and economic contexts of the cultural values of the past. The Czech Republic has been participating in the event since 1991.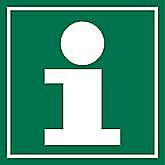 Activities - accommodation - guide service - tickets

Infocentrum Český Krumlov
náměstí Svornosti 2
381 01 Český Krumlov
tel.: +420 380 704 622
e-mail: info@ckrumlov.info
www.ckrumlov.info/info

Location on the map | Google Street View
GPS: 48°48'38.91" 14°18'55.44"