Services
>
Places to visit
>
Český Krumlov
>
Culture, events
>
Highlights
KRUMLOV AUTUMN RECITALS 2018, volume VIII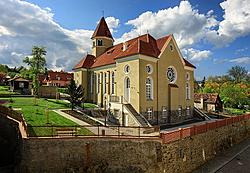 náměstí Svornosti 2
38101 Český Krumlov
Contact: Infocentrum Český Krumlov
Telephone: +420 380 704 621

E-mail: tickets@ckrumlov.info
WWW: www.krumlovskerecitaly.cz

Location: Český Krumlov
Type: Highlights
Synagogue Český Krumlov will host a series of chamber concerts on every Saturday in November. A number of excellent musicians both from Czech Republic and abroad will perform during the varied musical schedule.
OPENING CONCERT - Josep Viader, Petr Jiříkovský
| | |
| --- | --- |
| Dates | From - To |
| 03.11.2018   (Sa)   Order | 19:00 |
Josep Viader (Spain) – tenor, Petr Jiříkovský (CZ) – piano
► Josep Viader
Spanish tenor Josep Viader recently sang for the embassadors of United Nations in a private gala in honor of Japanese embassador Motohide Yokishawa. Moreover, this year has sang the main role of The Prinz in Antonin Dvorak's Rusalka in Valladolid, Spain.
The highlights of his career include his Carnegie hall debut last December with the role of Monostatos, Magic Flute by Mozart, the US concert at Lincoln Center with the New York Philharmonic Orchestra conducted by Alan Gilbert and Nemorino in L'elisir d'amore and Monostatos in The Magic Flute with Manhattan Opera Studio at Symphony Space Theatre in NYC.
In Europe, he has performed in Great Britain, in various opera houses such as Longborough Opera house as a Lucano in l'incoronazione di Poppea; Ruiz, Zingaro and the Messenger in Verdi's Il Trovatore; Don Basilio and Don Curzio in the marriage of Figaro by Mozart.
As a recitalist he has sang around the world. Also, this year sang recitals in Spain (Barcelona, Madrid), England (London) and in USA (New York and North Carolina). This 24th of November Viader will sing at the Reial Acadamy in Barcelona, Spain.
Josep Viader holds a Bachelors Degree in vocal performance from Manhattan School of Music in NYC.
http://josepviader.com/cs/


► Petr Jiříkovský(1971)
pianist and conductor, is one of the leading representatives of the middle generation of Czech artists. He started his career as a pianist – studying in Prague, in Paris and in Vienna. Besides developing his activities as a soloist and a chamber music player, since 2008 he has been intensively focusing his professional activities on conducting.
Petr Jiříkovský receives many invitations to conduct chamber and symphonic orchestras in the Czech Republic. He has participated in a number of major festivals and prestigious series' (with the Talich Chamber Philharmony and the North Czech Philharmonic Orchestra). In October 2012 he performed with the South Bohemian Philharmonic Orchestra as the conductor and pianist in Beethoven's 2nd Piano concerto.
In 2012, Petr Jiříkovský became the conductor of the South Bohemian Opera in České Budějovice.
His performances as a pianist have earned Petr Jiříkovský international acclaim. Foreign engagements have brought him to the top concert venues in Europe, the US, South America and Japan, with the most important stages being the Mozarteum in Salzburg, Theatre du Chatelet in Paris, Doelen in Rotterdam, the Kennedy Center in Washington, Teatro Alfa in Sao Paulo or Suntory Hall in Tokyo.
As a further extension to his outstanding musical qualities he led the Piano and Chamber Music Master Classes at the University of Sao Paulo, Brazil, in November 2008.
As a soloist he has played with many orchestras (Czech Philharmonic Orchestra, Prague Symphony Orchestra, Prague Philharmonic Orchestra, Talich Chamber Philharmony), under distinguished conductors such as Jiří Bělohlávek, Libor Pešek, James Sedares and Jean-Claude Casadesus. Domestic audiences will recognize Petr Jiříkovský as the soloist from his recitals at the Prague Spring Festival and the prestigious Prague Symphony series "World Piano Music".
http://www.jirikovsky.cz/


Entry: 450 CZK
Monika Načeva (vocals), Michal Pavlíček (guitars), Pavel Bořkovec Quartet
| | |
| --- | --- |
| Dates | From - To |
| 10.11.2018   (Sa)   Order | 19:00 |
An alternative Czech singer, the best Czech guitarist and a quartet composed of progressive string musicians not afraid of working the multi-genre scene.

http://www.naceva.eu
http://www.michalpavlicek.com/
http://borkovecq.cz/

Entry: 350 CZK
Where: Synagogue Český Krumlov, Český Krumlov
Solaris3
| | |
| --- | --- |
| Dates | From - To |
| 17.11.2018   (Sa)   Order | 19:00 |
Ensemble performing classical music of the 20th and 21st century.

Ensemble Solaris3 was founded in 2016 in order to join a project with the eurythmic group Flow. An important result of this cooperation was a long term project On the Ash trail, which took place in Czech Republic, Slovakia and Germany. This project undertook to combine eurhythmy with the music of the Latvian composer Peteris Vasks. In the 2017 the trio performed high rated concerts at festivals Forfest, New music Encountres+ and The Path and Solaris 3 concentrates on performing classical music of the 20th and 21st century.

Members of the ensemble are: Anna Veverková – violin, Štěpán Filípek – cello, Martin Levický – piano
www.solaris3.cz

Entry: 250 CZK
Where: Synagogue Český Krumlov, Za soudem 282, Český Krumlov
Bára Basiková and Prague Lecian Strings
| | |
| --- | --- |
| Dates | From - To |
| 24.11.2018   (Sa)   Order | 19:00 |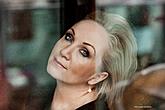 Bára Basiková (vocals) and Prague Lecian Strings (chamber sextet)

Bára Basiková with her incedible voice has been at the forefront of the music scene, loved for managing multiple genres, has now joined forces with the internationally acclaimed Prague Lecian Strings, led by violoncello master and composer Kryštof Lecian. The repertoire is wide and brings a whole new original sound to popular music.

Entry: 400 CZK
Where: Synagogue Český Krumlov, Za soudem 282, Český Krumlov
CONCERT CANCELED! Jaroslav Svěcený, Julie Svěcená, Václav Mácha
| | |
| --- | --- |
| Dates | From - To |
| 01.12.2018   (Sa) | 19:00 |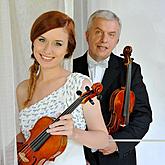 Jaroslav Svěcený – violin, Julie Svěcená – violin, Václav Mácha - piano

Concert canceled!
Where: Synagogue Český Krumlov, Za soudem 282, Český Krumlov