Services
>
Places to visit
>
Český Krumlov
>
Culture, events
>
Highlights
Celebrations of liberation 2018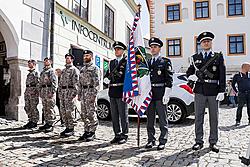 Široká 80
38101 Český Krumlov
Contact: Sdružení cestovního ruchu Český Krumlov, z.s.
Telephone: +420 736 634 469

E-mail: info@sdruzenicrck.cz

Location: Český Krumlov
Type: Highlights
Český Krumlov annually commemorates liberation of the town by US Army, which occurred in 1945. Residents and visitors of the town can honor the memory of the participants of World War II or visit a thematic exhibition.

The 73rd anniversary of the end of World War II in Český Krumlov will be commemorated on 5th May 2018.
Ceremonial act on the occasion of the 73rd anniversary of the end of World War II
| | |
| --- | --- |
| Dates | From - To |
| 05.05.2018   (Sa) | |
► 11:00 - Svornosti Square
Honoring ceremony to memory of the participants of World War II

► 12:00 - Jelení Zahrada
Exhibition: History of the Czechoslovak Legionary Community

► 14:00 - Jelení Zahrada - LAST BATTLE
- historical military technique and military settlement
- show of a contemporary war situation by simulation