Services
>
Places to visit
>
Český Krumlov
>
Culture, events
WINE FESTIVAL ČESKÝ KRUMLOV ® 18. 10. - 23. 11. 2019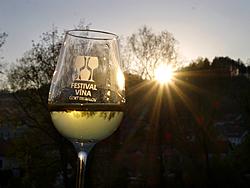 náměstí Svornosti 2
38101 Český Krumlov
Contact: Infocentrum Český Krumlov
Telephone: +420 380 704 622

E-mail: info@festivalvinack.cz
WWW: www.festivalvinack.cz

Location: Český Krumlov
Type: Culture, events; Highlights
Český Krumlov Wine Festival® brings yet again an enticing mosaic of wine experiences. Their special menu will be served from 18th October to 23rd November 2019.

St. Martin traditionally arrives on his white horse on the 11th day in November bringing not only the first snow but also first wine of the year. This marks the beginning of the Feast of St. Martin in Český Krumlov. Selected local restaurants will offer St. Martin´s wine, roast goose and other specialties.

The Český Krumlov Wine Festival® culminates in a Castle Wine Celebration, where you can taste over 300 wine samples of the Czech and foreign wineries.
Program 2019:
Opening of Wine Festival Český Krumlov
| | |
| --- | --- |
| Dates | From - To |
| 18.10.2019   (Fr) | 15:00 |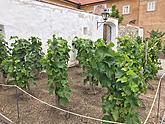 Where: Monastery Garden, Český Krumlov
Arrival of St. Martin and Festive Opening of St. Martin´s Wine
| | |
| --- | --- |
| Dates | From - To |
| 11.11.2019   (Mo) | 11:11 |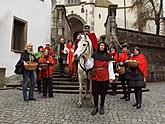 Festive arrival of St. Martin with St. Martin's wine, tasting and sale of St. Martin's wine on 11. 11. at 11:11am on the Svornosti Square.
Where: Svornosti Square, Český Krumlov
| | |
| --- | --- |
| Dates | From - To |
| 11.11.2019 - 17.11.2019   (Mo-Su) | |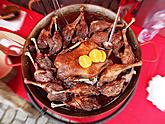 Traditional St. Martin's goose in different recipes and St. Martin´s Wine at our partner restaurants:
* Tenis-Centrum
* Hospoda 99
* Hotel Růže
* Café Retro
* Papa´s Living Restaurant
* Švamberský dům
* Hotel Zlatý Anděl
* Tavern Šatlava
* Restaurant Maštal
* Restaurant Jelenka
* Pub Glokner Svachovka
* cafe.bistro.winebar KOLEKTIV
| | |
| --- | --- |
| Dates | From - To |
| 23.11.2019   (Sa)   Order | 14:00 - 22:00 |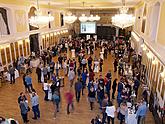 Wine show with tasting and wine sale in Castle Riding School.

A presentation of Czech and foreign wineries - over 300 wine samples - attended by their winemakers, cellar masters and sommeliers.

Selling wines for a favored festival prize. Both cold and warm buffet.
Where: Castle Riding Hall, Český Krumlov
WINE & GASTRONOMY & CULTURE
| | |
| --- | --- |
| Dates | From - To |
| 18.10.2019 - 23.11.2019   (Mo-Su) | |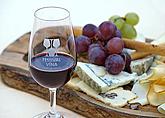 Special festival offer of degustation evenings in partner restaurants, friendly meetings with a glass of wine with renowned sommelier and winemakers.

Degustation evenings within the Wine & Gastronomy & Culture program take place throughout the festival in various places in Český Krumlov.
TOOK PLACE:
GARDEN WINE DEGUSTATION
| | |
| --- | --- |
| Dates | From - To |
| 28.09.2019   (Sa) | 12:00 - 21:00 |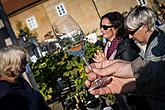 Autumn Wine Tasting with Invitation to the Wine Festival Český Krumlov 2019.

You will taste 60 samples of wines from Bohemia, Moravia, Austria, Germany, Italy, Spain and Montenegro.

Open Bistro - "The Catering" - warm and cold buffet.

Tasting with charge tokens that you can buy on the spot.
Where: Monastery Garden, Český Krumlov
St. Martin's Feast
St. Martin was born in 316 as Martin of Tours. His father was a pagan Roman officer in the Roman province of Upper Pannonia (today's Hungary) and he made Martin into a soldier when he was barely fifteen years old. Legend has it that Martin met a half-naked poor man begging for money on the street one dark cold night. Martin had no coins to give but wishing to protect the man from the elements, he tore his cloak in half and gave the beggar one part. Next night Christ Himself appeared to Martin, dressed in this half-cloak. Martin was so impressed by this sight that he got baptized on Easter 399 and devoted his life to God. He had to wait another 15 years before being released from the army with the rank of an officer. In 372 he became Bishop of Tours but continued to live a modest monk's life in a cottage near Loire River - on site of the future Marmoutier Abbey. St. Martin died in 397 aged 81 in Candes near Tours. He is patron Saint of soldiers, horses, riders, geese and winemakers. He is mostly pictured seated on a horse with half of his cloak and with a beggar.

St. Martin's Feast has traditional been one of the most popular ones in the year. This day marked the arrival of the first snow but also a full-blown feast. St. Martin's wine tradition can be traced back to the imperial court of Emperor Joseph II. where it was customary to toast St. Martin with the new wine of the year. On this day the seasonal service of winemakers at larger farms ended. They negotiated terms for the next season over a glass of first wine from the autumn harvest and while enjoying seasonal delicacies.

A well-fed roast goose usually served with a bread or potato dumpling and red cabbage is a traditional meal of this Feast. There are two legends explaining the goose dish. According to one legend, geese were disturbing St. Martin's sermon with their cackle and as punishment they end up in the roasting pan. According to another, Martin was so modest that he hid in a goose pen to avoid being ordained as bishop but geese betrayed him with loud cackling. Traditional dishes of St. Martin's Feast include pointed rolls filled with poppy seeds or plum jam paired with new wine, red or white which goes well with Bohemian specialties. St. Martin's Feast continues to be celebrated as a day of good food and wine.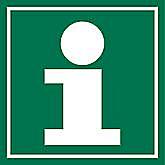 Activities - accommodation - guide service - tickets

Infocentrum Český Krumlov
náměstí Svornosti 2
381 01 Český Krumlov
tel.: +420 380 704 622
e-mail: info@ckrumlov.info
www.ckrumlov.info/infocentrum

Location on the map | Google Street View
GPS: 48°48'38.91" 14°18'55.44"