Services
>
Places to visit
>
Region of Český Krumlov
>
Trips around Český Krumlov
>
Castles, chateaus, ruins
Small Castle of Louzek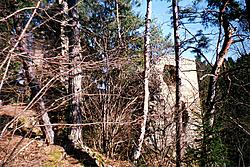 Náměstí 70
38241 Kaplice
Contact: Městský úřad Kaplice
Telephone: +420 380 303 100
Fax: +420 380 303 110

E-mail: podatelna@mestokaplice.cz
WWW: www.mestokaplice.cz

Location: Region of Český Krumlov
Type: Castles, chateaus, ruins
Small castle of Louzek is located as a river tear on a wide spit of the fiercely flowing Malše river. The builder of the castle did not sufficiently take advantage of the spit itself. The oppressive financial situation of the owners prevented them from using this spit to build a big castle and forced them to build the castle in a corner of sheer rocks surrounded from two sides by the Malše river.
Accessibility by road:
The ruin of Small Castle of Louzek is located 4 km to the south of Kaplice.