Monasteries Český Krumlov Invite You
Monasteries Český Krumlov invite you to visit the newly restored Minorite and Poor Clares Monasteries. The abundant schedule of events and permanent exhibitions offer an interesting learning and fun experience for the whole family.
Emma "75" / 22th April - 30th September 2017
The anniversary exibition of the famous czech artist Emma Srncova takes place from 22th April till 30th September 2017 at the Český Krumlov monasteries. The visitors will have the chance to create their own painting by Emma. The exibition is a part of The interactive exhibition of human skills and the arts of our ancestors.
Stories of Krumlov Monasteries: 3rd September 2016 - 31th December 2017
A long-running exhibition called "Stories of Krumlov Monasteries" has been taking place at the Český Krumlov monasteries from September last year. It presents the process of the largest restoration project in the modern town history through photographs by Ladislav Pouzar and copy by Jiří Bloch. Visitors can get a glimpse of some of the (many) stories of the careful restoration of several monastery locations dating back more than five hundred years on 16 boards with a total of around 270 photographs.
Permanent exhibitions: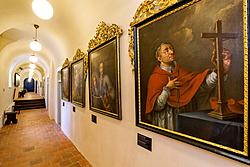 The Český Krumlov Monasteries exhibition in the former Minorite monastery acquaints visitors with the history of the Minorite Order as well as the rich architectural history of the grounds.
The interactive exhibition of human skills and the arts of our ancestors presents visitors with the traditional knowledge and skills of medieval monasteries. Visitors can look through an alchemist's kitchen and learn about how food was stored in the Middle Ages. Period quarters demonstrate how people lived during the Gothic and Renaissance periods, and you can even try historical clothing. Another attraction is the herbal workshop and soap workshop, recently extended to include new interactive features. In the scriptorium, you can create your own stencil decoration, try writing with a quill, or have fun in the playroom with replicas of medieval toys, machines, and inventions. For a spooky experience, visit the mysterious attic areas, where you'll witness a Danse Macabre, a Camera Obscura, and a large model of the historic center of this part of Český Krumlov.
The exhibition Life and Art in the Convent of the Poor Clares acquaints visitors with the monastic life of the Sisters of St. Clare in historical context of with medieval art and historical piety. In the former Convent of the Poor Clares, a unique exhibition of 200 years of the Passion Plays in Hořice is currently underway, running until 28 September 2016.