Services
>
Provozovny
>
Český Krumlov
>
Sports and entertainment
>
Sports
Český Krumlov Swimming Pool
Fialková 225
38101 Český Krumlov
Contact: Plavecký bazén Český Krumlov
Telephone: +420 380 711 702
Mobile phone: +420 736 634 105

E-mail: plavani@pro-sportck.cz
WWW: www.pro-sportck.cz

Location: Český Krumlov
Services:
Booking possibility
On-line booking
Parking
Refreshment
Entrance for disabled
Český Krumlov Swimming Pool is the facility where you can swim in a 25-metre long pool and a children´s pool,you can take a steam bath, take keep-fit and swimming courses.

Every year over 70,000 people decide to rest actively in the swimming pool and take advantage of the services provided by the Swimming Pool facility not only during winter and leisure time.
Accessibility by road:
Turn left behind Jelenka car park in Lipno destination to the grammar school.
Big swimming pool
Small pool
Steam-bath
HASTRMÁNEK Swimming School and swimming courses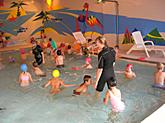 Information:
Veronika Šestáková
+420736634105
plavani@pro-sportck.cz

Bistro in the swimming pool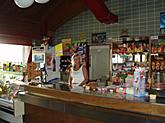 Bistro offers refreshment both for tourists and swimming pool visitors.

The hostel is located in a quiet neighbourhood near Český Krumlov town centre. We can arrange daylong board on order. The facility is suitable for organization of sports workshops, firm events etc. because of the sports possibilities in the building.