Services
>
Provozovny
>
Region of Český Krumlov
>
Towns and villages in the region
>
Willages
Omlenice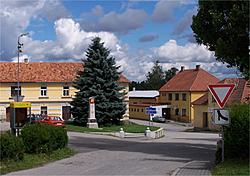 Omlenice
38241 Omlenice
Contact: Karel Holub
Telephone: +420 380 313 118
Fax: +420 380 313 118

E-mail: starosta@omlenice.cz
WWW: www.omlenice.cz

Location: Region of Český Krumlov
Geographical area : 1379 ha

Altitude : 644 m above sea level
Parts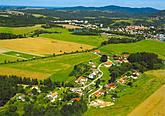 Omlenice
Blažkov
Omlenička
Stradov
Výnězda

Origin of the Name :
1358 - Omlenicze
1374 - Omplenycz
1720 - Gros-Umlowitz
1841 - welky Vmlowicze

Omlenice
The first written mention of the town is from 1358. The original settlement belonged to minor nobility, then from the 16th century to the Clarisse Monastery in Český Krumlov and to various other estates. In 1590 a large part of the village was acquired through purchase by Omlenička.

Omlenička
First written mention from 1358. The original settlement with fortress belonged to Pořešín in the 13th century, then to the Drochovec family of Drochov from 1364, then to Přibík Zibřid of Mostek from 1465. Afterwards the settlement went through the hands of several owners. At the beginning of the 18th century Omlenička went to the Counts of Nütz. A chateau was built in place of a fortress. In 1778 Omlenička was bought by Vyšší Brod Monastery. In 1829 the entire village burned, and with it the chateau, church, and tower. Earlier, in 1656, small spas had been established from a spring of ferrous water - the spas were extended in 1710 and still in use at the beginning of the 20th century. The spas were used to heal digestive ailments.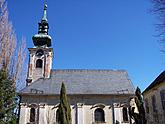 Omlenice - memorial to the victims of the Nazi death trains

Omlenička - church of St. Jan Nepomucký - baroque church from 1722, reconstructed 1890

Omlenička - originally wooden fortress, later stone - reconstructed at the beginning of the 17th century into a renaissance chateau, in 1727 adjoined by a one-storey baroque wing to the church.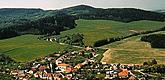 Around the town as well as in the nearby Malše River valley, you can find old growth forests which are ideal for strolling as well as more vigorous outdoor sports.