Services
>
Provozovny
>
Region of Český Krumlov
>
Towns and villages in the region
>
Willages
Rožmberk nad Vltavou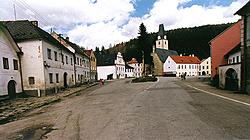 Rožmberk nad Vltavou
38218 Rožmberk nad Vltavou
Contact: Vladimíra Kolářová
Telephone: +420 380 749 820
Fax: +420 380 749 846

E-mail: ourozmberk@ck.ipex.cz
WWW: www.rozmberk.cz

Location: Region of Český Krumlov
Geographical area : 2485 ha

Altitude : 536 m above sea level
Parts
Rožmberk nad Vltavou
Přízeř
Origin of the Name :
1262 - Rosenberch
1369 - Rosenberg
1405 - Rosemberg
1420 - Rozmberg
1654 - Rožumbergk
1841 - Rosenberg, Rožmberk

The town of Rožmberk was founded in the mid 13th century on the trade route which led from Český Krumlov across the border pass to Linz and further south. It is associated with the renowned noble clan of the Rosenbergs, who settled the town and area then brought the region prosperity, culturally and economically. The statute granted to the town attests to this, as the Rožmberks also were the lords of Český Krumlov and all its holdings. In 1620 their local domain was accrued by the French aristocrats the Buquoys, who continued the Rosenberg's tradition of cultural and economic prosperity.
Local Historical structures
Rožmberk nad Vltavou Castle

New Castle - today used as accommodation facilities

Church of St. Mikuláš - first mention is from 1271. Late Gothic structure from late 1400's on older foundations.

Several houses from the 17th and 18th
centuries with interesting gables on the Town Square

Old and New Jewish Cemetery

Studenec - Chapel of St. Anna
Nature
The town of Rožmberk lies in the picturesque valley of the Vltava River, 10 km from he Austrian border and 25 km from Český Krumlov. Untouched nature, the majestic passage of the Vltava, and the historic spots of the township itself attract tourists here from the whole world. The nearby natural reservation of Dolní Jílovice offers relaxation and reflection in a beech-filled forest.