Services
>
Provozovny
>
Region of Český Krumlov
>
Towns and villages in the region
>
Willages
Střítež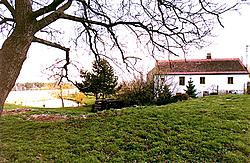 Střítež
38232 Střítež
Contact: Jan Matějka
Telephone: +420 380 321 174
Fax: +420 380 321 174

E-mail: obec.stritez@seznam.cz
WWW: www.ckrumlov.cz/stritez

Location: Region of Český Krumlov
Geographical area : 838 ha

Altitude : 675 m above sea level
Parts
Střítež
Kaplice - nádraží
Raveň
Town History
Origin of the Name :
1358 - Trzietez
1363 - in Strzietezy
1562 - Střítežské rychtářství

The history of the town reaches back to the 14th century, specifically to 1358 when the name Střítež appeared in its modern form. After the Second World War the town fell under the administration of the town of Kaplice until Jan 1, 1994, when the town formed its own administration. The creation of the the township as such also signaled the onset of local business activity.
Nature
The town lies at the foot of the Poluška highlands (locally called Kuklíky).