Services
>
Provozovny
>
Region of Český Krumlov
>
Towns and villages in the region
>
Willages
Světlík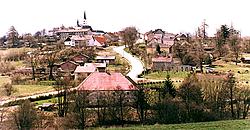 Světlík
38211 Světlík
Contact: Zahorák Michal
Telephone: +420 380 737 162
Fax: +420 380 737 070

E-mail: ousvetlik@seznam.cz
WWW: www.ckrumlov.cz/svetlik

Location: Region of Český Krumlov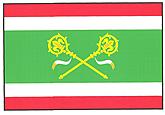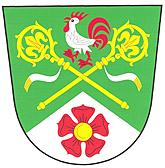 Geographical area : 2694 ha

Altitude : 798 m above sea level
Parts
Světlík
Town History
Origin of the Name :
1258 - Chirchslag
1307 - Liechtenwerdt
1367 - Swietlik
1423 - Světlík
1598 - Kirchschlag

The first written mention of the town is from 1258. Peter Wok von Rosenberg granted rights of patronage to the Světlík church. In 1300 Světlík belonged to Oldřich of Vyšný, then in 1331 the town was divided between Bolech Předbor and Chval. In 1423 Světlík was pillaged and burned by Hussites. The town belonged to Krumlov from 1624 to 1850.
Local Historical structures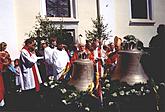 Church of St. Jakub Větší - originally from the mid 13th century, damaged in 1423, expanded in 1663, completely romanized from 1872 to 1874. Between 1991 - 1998 complete reconstruction was accomplished. On July 25 1999 were two new bronze bells (weight 200 and 400 kilogrammes) from the bell manufacture of Rudolf Perner from Pasov consecrated

Remains of building no. 27 - first mentioned in the 1280's, in 1624 sold complete with courtyard brewery to the town of Krumlov. Preserved elements of 15th century structure, three-storey tower with bow-window in the courtyard.

Fortified Settlement of Pasovary
Nature
Near the town is nature reservation Rašeliniště Bobovec (peatbog), Kotlina pod Pláničský lake, and other peatbogs.