Services
>
Provozovny
>
Region of Český Krumlov
>
Towns and villages in the region
>
Willages
Velešín
Náměstí J. V. Kamarýta 76
38232 Velešín
Contact: Mgr. Josef Klíma
Telephone: +420 380 331 541
Fax: +420 380 331 233

E-mail: starosta@velesin.cz
WWW: www.velesin.cz/cz/index.htm

Location: Region of Český Krumlov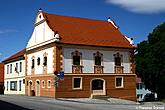 Geographical area : 1323 ha

Altitude : 548 m above sea level
Parts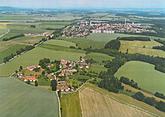 Velešín
Bor
Holkov
Chodeč
Skřidla
Town History
Origin of the Name :
The name Velešín was originally derived from the proper name of the owners, as it meant the court of Veleš. This word was used later to refer to the royal castle and newly founded settlement in its shadow, even though it no longer reflected actual ownership.
In Latin texts: Welleschina, Wellessin
In German texts: Weleschin

The first written mention of the town is from 1266. In meander of Malše river, on high bill, was established castle by king Přemysl Otakar II. Together with castle arose settlement on opposite bank of Malše of which gradually formed the town. The castle and settlement were given to Čéč of Budějovice by Přemysl Otakar as compensation for his loss of Budějovice. In 1266 it went to Benešov of Markvartice, in 1391 was granted town status, and in 1387 sold to Ulrich II. von Rosenberg. During the Hussite Wars in 1433 Velešín was conquered and occupied by Hussite hetman Čapek of Sána. In 1611 the owners became the lords of Švamberk, and in 1620 given by the emperor to the Buquoys. The settlement was on the so-called Cáhlov trade route leading to Freistadt, but its significance decreased upon the construction of the horse-drawn railway in the early 19th century. In addition to agriculture, the village also prospered through handicrafts - between 1568 and 1705 guilds of tailors, weavers, ironsmiths, wheel-makers, joiners, cobblers, butchers, and bakers all either were formed or joined.
Local Historical structures
Remains of the defences of the one-time Velešín Castle on the bill over Římov dam, on the east of Velešína ( yellow tourist line from Velešín square ) and remains of Slavic fort at the confluence of the streams Malše and Strahovský potok.

Church of St. Václav with cemetery - founded in the mid 13th century, restored in 1604, reconstructed and repaired from 1754 to 1763, restored from 1887 to 1888. Tower on the west side from 1491.

Town Hall building - originally from before 1611, reconstructed in mid 1700's.

Baroque Marian column with sculptures

Former Gothic church of St. Phillip and Jacob

House no. 12 on the Square (late Gothic portal, Renaissance window decorations), no. 20 (late Gothic oriel and door frames)

Remains of the horse-team route :
Holkov (no. 8) horse exchange
Holkov (no. 20) - former carriage-house
embankment with stone bridge
Nature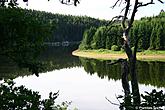 The town's shape is mostly formed by the flow of the Malše River, and the water reservoir Rímov lies directly at Velešín. The romantic natural seclusion of the village disappeared under the waters of the Římov reservoir. Nearby Velešín is a nesting site of the eagle-owl (bubo Bubo), and the village is also proud of two nesting pairs of white storks (Ciconia Ciconia). Several types of endangered plants grow in the area, such as poisonous daphne (daphne mezereum), bitter soldanella (soldanella mantana), Lunaria rediviva, and others.