Services
>
Provozovny
>
Region of Český Krumlov
>
Towns and villages in the region
>
Willages
Větřní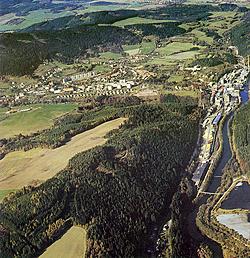 Větřní
38211 Větřní
Contact: Kubík Jiří
Telephone: +420 380 732 373
Fax: +420 380 732 225

E-mail: starosta@obecvetrni.cz
WWW: www.vetrni.ois.cz

Location: Region of Český Krumlov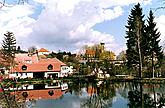 Geographical area: 2766 ha

Altitude: 607 m above sea level
Parts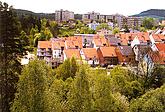 Větřní
Dobrné
Hašlovice
Lužná
Nahořany
Němče
Zátoň
Zátoňské Dvory
Town History
Origin of the Name:
1347 - Wetern
1375 - Wietrzny
1383 - Wyetrnye
1471 - Wettern
1841 - Wettern, Wětřín
The name Větřní originates from the adjective větrný , meaning windy, blustery.

The oldest evidence of the existence of Větřní dates back to 1347 and is linked with the Višně family, which also played an important role in the entire early history of the region. On September 7, 1347 Petr of Rosenberg presented his chamberlain, Višně, with the hereditary tenancy of the estate in Větřní. Although at that time the Višněs did not own the estate, they started to call themselves the Višněs of Větřní. They became its hereditary landlords only on January 10, 1368, as confirmed by a deed of covenant issued by four Rosenberg brothers, which also included the Pečka Mill. Petr Višně is known to have been the first bearer of the family coat-of-arms as preserved on his seal. It had three semibands on the upper part of the escutcheon, three semi-bands on its lower part, and barrel as a jewel over the helmet. In the second half of the 14th century and almost throughout the entire 15th century members of the Višně family held the highest posts with the Rosenbergs. In the 16th century their economic standing and power position worsened. Jan Višně of Větřní, the last known member of the family, sold Větřní, Metlín, Kaliště and Němče to the town of Český Krumlov in 1603 and after the Bílá Hora battle went abroad where his traces disappeared.
In mid-18th century Větřní and Němče were part of the Český Krumlov estate.
Local Historical structures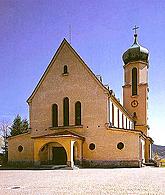 Late Renaissance one-storey Fortified Settlement of Větřní, reconstructed into a school in 1892.

Church of St. Jan Nepomucký from 1936 to 1938.

The Church of St. Jan Baptist in Zátoň
Nature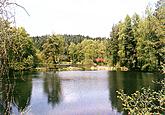 The flow of the Vltava River forms the shape of the town, plus nearby is the nature reservation Slavkovský chlumek or Žestov.