Services
>
Provozovny
>
Český Krumlov
>
Services
>
Public transport
>
Taxi
Krumlov TAXI (+420) 380 712 712
Nádražní 3
38101 Český Krumlov
Contact: Daniel Pícha, Robert Michal
Telephone: +420 380 712 712
Fax: +420 380 602 430
Mobile phone: +420 773 877 413

E-mail: info@krumlov-taxi.cz
WWW: www.krumlov-taxi.cz

Location: Český Krumlov
Language knowledge: CZ, DE, EN
Services:
Booking possibility
On-line booking
Payment in EUR
We are trasportation company operating in trasportation branch and its servises from 1991. Continuous increase of quality and service range enables provide our services on high level. Our aim is satisfied client, trasfered always in time, with maximum care on point of destination.

Company Krumlov TAXI is thanks to its efforts and quality offer of servises found between largest, cheapest and the most reliable taxi service company in Český Krumlov. Unified colour of our fleet is - Yellow.
Opening times:
| | |
| --- | --- |
| Dates | from - to |
| 01.01.2012 - 31.12.2012   (Mo-Su) | |
Krumlov TAXI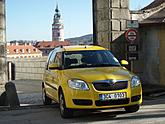 Passenger service by cars and minibus in scope of region, the Czech Republic and the Europe.


Price list
Car (1km) 22 CZK
Minibus (1km) 24 CZK
Waiting time (1hour) 240 CZK
Krumlov Transfer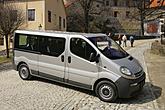 Passenger transportation by cars and minibus in the Czech Republic and the Europe. In case of more extencive transports the price is negotiated individually.
Further Information: Orientační ceník pro vybrané transfery [DOC 56 kB]
Further service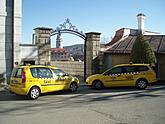 Furthermore, we offer: bycicle or boat transportation, transport service for companies and travel agencies or mediation of a driver for your car.
Special claims and price offer: mobile phone (+420) 603 205 542 ; e-mail: info@krumlov-taxi.cz