Services
>
Provozovny
>
Český Krumlov
>
Tourism
>
Guide
English tourist guide Cesky Krumlov, wedding planner - Karolina Kortusova
Vyšehrad 261
38101 Český Krumlov
Contact: Karolina Kortusová
Telephone: +420 723 069 561
Mobile phone: +420 723 069 561

E-mail: info@krumlovtours.com
WWW: www.krumlovtours.com

Location: Český Krumlov
Language knowledge: CZ, DE, EN, FR, IT, SP, , HU,
Services:
Booking possibility
On-line booking
Credit cards
Payment in EUR
Cesky Krumlov wedding planning services, legal interperting
1993 British university graduate with extensive guiding and interpreting experience. Recommended by Rick Steves and Tripadvisor. Great organizational skills. Wedding co-ordination services in Český Krumlov (Cesky Krumlov Wedding Catalogue 2012 - please send your request to info@krumlovtours.com.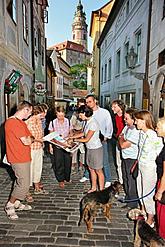 Cesky Krumlov, a UNESCO World Heritage site, is more than unique. It's an experience in its own right - beautiful architecture, rich culture, cosy pubs and inns...Let us to take you around and show you not only the best spots, but also hidden nooks of Old Town. Ask for list of tours available and 2008 prices at the email address above.
Cesky Krumlov wedding planning service includes ceremony venue locating, legal advice and translations of documents, legal interpreting and other related wedding services (transportation, catering, decorations, photographer, music, accommodation. Reference:
"We were very impressed with everything that you organised, how professional everyone was, and how your suggestions were spot on every time. I think the more people that choose your company for their wedding, the more beautiful weddings there will be."Katrina and Matt
Legal interpreting and translations Cesky Krumlov
Legal, technical and business texts. Legal English translations and interpreting.