Services
>
Provozovny
>
Region of Český Krumlov
>
Towns and villages in the region
>
Other towns and villages
Vyšší Brod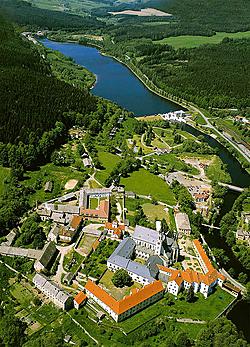 Míru 250
38273 Vyšší Brod
Contact: Ing. Zálešák Milan
Telephone: +420 380 746 537
Fax: +420 380 746 305

E-mail: starosta@vyssibrod.cz
WWW: www.vyssibrod.cz

Location: Region of Český Krumlov
List of offers:
Geographical area : 6972 ha

Altitude : 693 m above sea level
Parts
Vyšší Brod
Dolní Drkolná
Dolní Jílovice
Herbertov
Hrudkov
Lachovice
Studánky
Těchoraz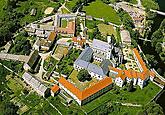 Origin of the Name :
1259 - Hohenuurt
1260 - Hohenfurt
1349 - Wisnowibrod
1405 - Wyssebrod
1416 - kláštera Wyssebrodskeho
1524 - Vyšnej Brod
1854 - Vyšší brod, Hohenfurth

The first written mention of the town is from 1259. The settlement existed before the founding of the monastery. The monastery was founded in 1259 by Peter Wok von Rosenberg on one of the old trade routes. It gradually acquired property through its supporters, and after the Rosenbergs died out became completely financially independent of its protective nobility seated at the Český Krumlov castle. In 1422, the monastery became the target of one of the Hussite army's military campaigns. After the abolition of feudalism, the economic and political significance of the monastery fell, and its activity was limited to religious affairs and taking care of its own properties. In the 1950's Vyšší Brod lost its status as a town, but regained this status by Czech Parliamentary decision on July 1, 1994.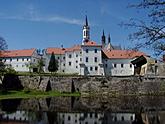 Cistercian Vyšší Brod Monastery with fortifications - founded in 1259 by Wok von Rosenberg.

Monastery church of the Assumption of the Virgin Mary - founded in 1259. The church gradually underwent many constructional changes which notably changed its original early Gothic appearance. The oldest preserved part is today's sacristy. Under the chancel are the Rosenberg family graves.

Dean church of St. Bortholemew - originally early Gothic, founded in 1259, modified in the 16th century, reconstructed in the 17th century.
Very close to the town lie the national nature reservations Čertova stěna and Luč with unique masses of granite and areas of old growth forests.