Services
>
Provozovny
>
Region of Český Krumlov
>
Towns and villages in the region
>
Willages
Benešov nad Černou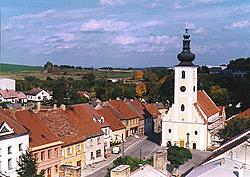 Benešov nad Černou 126
38282 Benešov nad Černou
Contact: Korchová Veronika
Telephone: +420 380 322 137
Fax: +420 380 312 118

E-mail: starosta@benesovnc.cz
WWW: www.benesovnc.cz

Location: Region of Český Krumlov
List of offers:
Geographical area : 5706 ha

Altitude : 661 m above sea level
Parts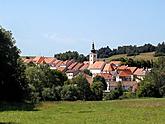 Benešov nad Černou
Černé Údolí
Daleké Popelice
Děkanské Skaliny
Dluhoště
Hartunkov
Klení
Kuří
Ličov
Pusté Skaliny
Valtéřov
Velké Skaliny
Velký Jindřichov
Origin of the Name :
1332 - Heinricus pleb. de Peneschave
1596 - Benessow
1789 - Beneschau
1854 - Deutsch Beneschau
1946 - Benešov nad Černou (after the Černá River)

Benešov nad Černou was founded in the second half of 13th century by Beneš of Michalovice as a settlement nearby the stronghold. The first written mention is from 1332, when the original chapel of St. Jakub was expanded, thus creating a church. The original town began as a community under the fort of Beneš Pyšný of Michalovice. Name of the settlement arose from the name of the founder - Beneš of Michalovice. Jan Jiří of Švamberk granted privileges to Benešov citizens to brew the beer and to hold the annual fairs on Tuesday and on St. James Day until 1383, when Benešov was granted minor township status and gained certain rights and privileges. Benešov was bought by Ulrich II. von Rosenberg and was connected to Nové Hrady estate in 1387. Ulrich II. von Rosenberg confirmed the town's previously granted concessions, plus acknowledged the town's favored position. In 1553 we find the first mention of a Town Hall and hospital. The renowned Rosenberg regent Jakub Krčín of Jelčany founded and built a brewery here in 1570. 1594 saw the construction of a renaissance Town Hall on the central square. In 1881 the town was granted full township status, and the original name was changed to German Benešov (Deutsch Beneschau). Because of repeated fires in 1619, 1801, 1849, 1863 and 1891 the town lost its venerable character. Newly built German six-class school with two pararel and agricultrure class was finished on 20th September 1885. Living of the citizens was supplied by output of mills, saw-mills, iron-mills, lumber-wool factory and by lumber trading. Also agriculture and crafts, especially pottery, were fairly advanced. Benešov nad Černou has been a municipal historical reservation since 1995.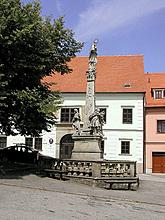 Fortified Settlement of Benešov nad Černou - founded in 13th century, abandoned since Hussite wars

Church of St; Jakub the Elder - originally gothic, rebuilt baroque in 17th century

Town Hall (no. 126) from 1594

former brewery from 1570

statue of St. Jan Nepomucký from 1726 on a three-sided column with reliefs of St. Dominik, St. Leonard, and St. Václav, and statues of St. Donát, St. Florián, and St. Roch.
Right next to the town are found the two oldest natural reservations in Europe (1838) - the Primeval Forest Hojná Voda and Primeval Forest Žofín. Spruces, beeches, and mixed forests with numerous peat bogs form a source of natural water accumulation. These forests are also the origins of the rivers Lužnice, Malše, Černá and Stropnice. Many hiking and educational trails lead around Benešov nad Černou.