Services
>
Provozovny
>
Region of Český Krumlov
>
Towns and villages in the region
>
Willages
Brloh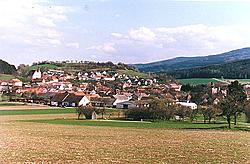 Brloh
38206 Brloh
Contact: Martin Toman
Telephone: +420 380 745 126
Fax: +420 380 745 119

E-mail: starosta@obecbrloh.cz
WWW: www.obecbrloh.cz

Location: Region of Český Krumlov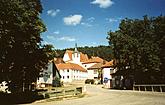 Geographical area : 4618 ha
Altitude : 560 m above sea level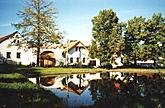 Brloh | Janské Údolí | Jaronín | Kovářov | Rojšín | Rychtářov | Sedm Chalup

Jaronín
Settlement is a part of village Brloh
Obec Brloh, 382 06
Altitude: 600-640 m
Number of inhabitants: 91
Area of register: 1776 ha

Rojšín
Settlement is a part of village Brloh
Obec Brloh, 382 06
Altitude: 550 m
Number of inhabitants: 84
Area of register: 370 ha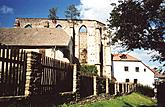 Origin of the Name :
1310 - 1347 - Berloch
1369 - Brloh

The first written mention of the town is from 1310. Brloh was a liege village belonging to the Rosenbergs. In 1418 the village was freed by the death of Ulrich II. von Rosenberg. Due to its position (near the path between Budějovice and Prachatice), Brloh underwent many difficult periods during various wars - in the 15th century especially from militias from Passau and Sweden. Church of St. Mary Magdalena was established in 1340 by Peter Wok of Rosenberg and in 1697-1704 was rebuilt in Baroque style. Rectory was constructed in 1716 and in 1751 burnt out. Mention about school in Brloh is already from 1660. In the half of 19th century there was bilingual Czech-German school. In 1857 new schoolhouse was built. In 1873 there was two-class Czech and one-class German school. Livelihood was provided throught the farming at first. Especially rye, wheat and barley were grown here. Poor people were lived due to production of beech-wood shoes. The most neat-handed of them could make 12 pairs a day. Also rakes and shovels were produced here. The flax was also grown and was spinned in winters. Here were many weavers that were fabricating the canvas for serges. In 1850 Brloh had 1071 citizens and in 1996 had 995 citizens.
Local Historical structures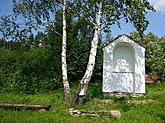 Church of St. Simon and Jude, originally of the Holy Mary Magdalena, established around 1340; baroque reconstruction from 1697 - 1704 by G. Caneval.

Interior furnishings from 19th century.

Chapel of St. Vojtěch.

Ruins of Castle and Monastery Kuklov are not far away from village.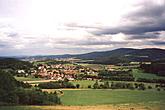 The town is situated right in the heart of the Blanský Forest Nature Reserve, the nearest natural monument being Simečková bank with flowering biotope and vegetation on a serpentine base.