Services
>
Provozovny
>
Český Krumlov
>
Organizace založené městem
>
Školy
>
základní školy
Elementary School Za Nádražím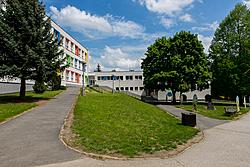 Za Nádražím 222
38101 Český Krumlov
Contact: Mgr. Dalibor Carda
Telephone: +420 380 711 296

E-mail: zsnadrazi@zsnadrazi.cz
WWW: www.zsnadrazi.cz

Location: Český Krumlov
Elementary School Za Nádražím
Organizer :
Municipal office Český Krumlov

Elementary school is an jurist subject and it is managed as an allowance organisation due to the Ministry of finances intimation No.205/91 Sb. Part of this school as a subject is also the youth centre and school dining hall.

Elementary school is divided into none classes and two the first and second grades. The first grade create classes from the 1st to 5th. The second grade than from the 6th to 9th class.
On the both grades lessons are given according to the teaching plots the education plots of programme for elementary schools No. 16847/96-2.
Classes with enlarged math and natural sciences education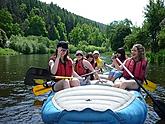 Based on the Instruction of the Ministry of education from June 12 1985 No. 21106/85-200 published in Bulletin in August 20 1985 note No. 8 articles 8 and 11 and also based on the elementary school intimation No.291/91 sb. §6 par.1 were founded on the second grade classes with enlarged math and natural sciences education, where is taught according to the approved teaching plots No. 30250/86-200.

Great attention is given to talented pupils in mathematics and natural sciences. For a development of mathematics skills connected with work with computers are in school available voluntary computer classes in which are given to students basic skills important for further work with computers and applications and programming. To improve abilities in the natural science branches work in school Biology group, where pupils pay attention chiefly to ecological problems of our Earth.
The volleyball sport classes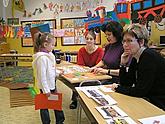 According to the same documents classes with enlarged gymnastics specializing in volleyball were established at school. There were given 5 hours of gymnastics and 2 hours of the special interest gymnastics in these classes. The whole system is linked to work in the volleyball club VSK Český Krumlov.

Connected with club school ensures the whole spectrum of trainings, which reach over plots of sport teaching plans of those classes. The club working is from beginning built as a superstructure of volleyball activities in school. Club ensured for each class 2-4 hours a week, tournaments, competitions and transport there during the weekend days.

Math and gymnastics education in the 6th and 7th classes
In the 6th and 7th class is enlarged education realized only in voluntary classes. Chosen pupils are concentrated in classes and divided in order to (in case of their interest) study both branches.
Partner school BAD LEONFELDEN Austria
School establish the partnership with Hauptschule in Austrian Bad Leonfeldenu. Partnerships are based on co-operation between classes of the school, on mutual understanding between pupils and work on the both schools. Teacher-groups are meeting periodically during special events including sport events when teachers from both schools learn about work in the neighbour country.
Partner school in Hauzenberg Germany
School also established contacts with a school from German Hauzenberg. Main goals of co-operation are written contacts between pupils in English language. Pupils met shortly after the first letters have been written at friendly meeting in Český Krumlov and at the end of school year were children invited to a school celebration to Hauzenberg.
School equipment
Immovable property is the one of the Town Český Krumlov and school uses it without expenses for its needs. The elementary school is built as a block school located at living site Za Nádražím Český Krumlov. It consists from 7 blocks: 10-classes learning block, 12-classes learning block, 6-classes learning block, dining hall and youth centre block with 4 classes, gymnasiums block, dressing rooms block, work shop block.
School has together 35 classrooms and special laboratories. Professional classrooms is 10. Total amount of cabinets is 25.
Gymnastics are provided in two gymnasiums. The large gym which reaches an area of 500 m2, has a dashboard floor built in 1992. The small gym´s area is about 190 m2. Both gymnasiums have the standard equipment. They are ideal for enlarged education of volleyball in the gymnastics classes. There are also two out door playgrounds besides the school. The great one with dusty surface reaches an area of 2052 m2 and the one with asphalt surface is 850 m2 large. The asphalt one serves also as a traffic playground.
The youth centre has 4 departments with good bases.
The dining hall capacity is about 1000 boarders. It is equipped with computers for the data processing, lunch taking control by credit cards and senzors.
Possibility of reservation: for individuals and groups
Inclusion of the company in the catalogue of products and service: