Services
>
Provozovny
>
Region of Český Krumlov
>
Towns and villages in the region
>
Willages
Bujanov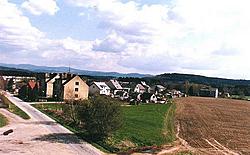 Bujanov
38241 Bujanov
Contact: Bořivoj Vojče
Telephone: +420 380 327 054

E-mail: obecbujanov@quick.cz
WWW: www.bujanov.cz

Location: Region of Český Krumlov
Geographical area : 1747 ha

Altitude : 680 m above sea level
Parts
Bujanov
Skoronice
Suchdol
Zdíky
Origin of the Name :
1400 - Angrer
1446 - Bujany
1461 - Bugianow
1530 - Angrarn
1654 - Angarn
1720 - Ongern
1923 - Bujanov, Angern

The first written mention of the town of Bujanov is from 1347, when the township began as a German colony. Until 1945 the town was inhabited only by Germans and had about 82 registered properties. After 1945 and the repopulation with Czech citizenry, Bujanov was inhabited mostly by Czechs from Ločenice and surroundings, the community of Suchdol was inhabited by citizens from Chotěbořsko, the community Nažidla with citizens from Třeboňsko and Svinihlava by citizens from České Budějovice.

Tales and legends :
Little Castle of Louzek On the cragged rocks above Malše are the ruins of castle Louzek, whose owner was a cruel and evil knight. Once a pilgrim came from Jerusalem to warn the sinister lord to repent in the face of righteous punishment. The knight paid no heed and threw the poor messenger into the castle cellars to be scourged by snakes, scorpions, toads, lizards, and rats. When the prisoner finally died, this hideous scourge proceeded to infest the entire castle. The horrified castle inhabitants fled, and the cruel knight was torn apart, still alive, by the poisonous slew. From that day on the castle has been uninhabited and the last owner, who wanders the ruins shrieking and moaning, is beyond help.

In the ruins of the castle was hidden a den of a horrrible band of thieves. From the cellar through an underground corridor all the way to an old linden tree, the bandits led a wire with a bell. When the bell rang, they jumped out from hiding and robbed, killed, and buried the poor traveller under the linden. After the band had broken up, their treasure remained in the castle corridor. Whoever finds a piece of the old linden and coridor can take the treasure, but of course must devote half of it towards godly purposes.
Horse exchange station for the Horse-drawn Railway (no. 20), now a grammar school.

Causeway of horse team trail with remains of culvert pillars

Ruins of Little Castle of Louzek - founded around the 13th or beginning of 14th century by Beneš of Michalovice on an old route leading from České Budějovice to Austria. In 1488 gained by the Rosenbergs, abandoned since 1541.
Nature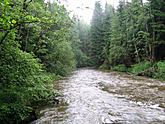 Near the town and in the Malše River valley are mixed growth forests which are great for pleasants walks as well as sports.
Inclusion of the company in the catalogue of products and service: