Services
>
Provozovny
>
Region of Český Krumlov
>
Towns and villages in the region
>
Willages
Křemže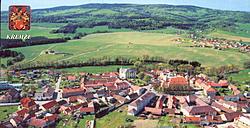 Náměstí 35
38203 Křemže
Contact: Ing. Josef Troup
Telephone: +420 380 741 126
Fax: +420 380 741 181

E-mail: oukremze@mbox.terms.cz
WWW: www.kremze.cz

Location: Region of Český Krumlov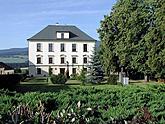 Geographical area : 3685 ha
Altitude : 523 m above sea level
Parts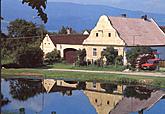 Křemže
Bohouškovice
Chlum
Chlumeček
Chmelná
Lhotka
Loučej
Mříč
Stupná
Vinná
Origin of the Name :

1266 Zmilenburch
1281 Zmilenberg
1364 Krzemz
1369 Krzemsa
1385 Krzemze
1447 Křemže

The first written mention of Křemže is from 1263, when it belonged to the Dubenský family of Chlum. In 1318 the family divided into two branches, the Chlum and Křemže branches. Smil built a castle on the site of a fortress in Křemže, and his successors wrote of "The Smils of Křemže". The last Smil, Jan, was captured by Ulrich von Rosenberg and executed in 1447, only after Ulrich had succeeded in extracting Křemže from Jan Smil. In 1451 Ulrich von Rosenberg sold Křemže to the Přibík brothers and to Ulrich of Chlum, and in 1547 Křemže passed into the ownership of the Častolár family from Dlouhá Ves. The town was obtained by the Zlatá Koruna Monastery in 1678, then after the monestary's dissolution in 1785 to the Český Krumlov dominion under the Schwarzenbergs. Křemže was raised to full town status in 1863 and used the seal of the lords of Dubenský of Chlum - a bullet (the symbol of Jan Smil). In 1840 a part of Křemže burned down, 15 homes on the Square to be specific.
Church of the Archangel Michael - the oldest original part is a Romanic sacristy, where the original vaults were replaced by a new one, and a Gothic presbytary was added in the 14th century. On the site of the destroyed Častolár church from 1557 a new three-knaved church was built in pseudogothic style in 1887.
Hus's choir from 1930

Chapel of St. Voršila on the cemetery. The original, from the Častolárs, was destroyed by lightning in 1550 and replaced by a new one in 1905.
Fortified Settlement of Chlum
Little Castle of Křemže
Fortified Settlement of Chlumeček
Dívčí Kámen Castle
lookout tower on Kleť (1083 m above sea level) from 1825.
Nature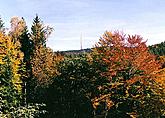 The town lies in the Blanský Forest Nature Reserve with other natural reservations Dívčí Kámen, Holubovské hadce with flora and vegetation on a serpentine base, and the reservation Bořinka (mineral site).