Services
>
Provozovny
>
Český Krumlov
>
Tourism
>
Hire services
Motorcycle Rental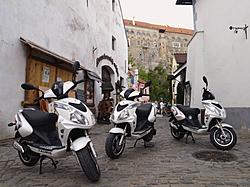 Široká 80
38101 Český Krumlov
Contact: Marek Šimon
Telephone: +420 736 634 460

E-mail: info@krumlovskymlyn.cz
WWW: www.krumlovskymlyn.cz

Location: Český Krumlov
List of offers:
You don't have to limit your stay in Cesky Krumlov to the area within the city borders – rent a scooter and you can explore the beauties of neighbouring as well as further surroundings of the city. Whether you enjoy independent travelling and aim at exploring as much as possible, or simply want to have fun, a scooter is the best option for you.
With our scooter you can set out for a trip followed by a picnic or bathing, or you can start discovering the South Bohemia. The drive itself along Soth Bohamian roads will be an adventure!
SCOOTERS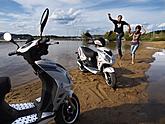 There are 11 scooters of TAURIS FUEGO 50 type (Austrian producer EnMoto) available in our scooter hire. All of the scooters are extremely easy to control, so anyone (holding an appropriate driving licence, of course) can drive them. Due to their speed limit of 50 km/h the scooters are also rather safe to drive. They can be rode by one or two persons, the maximum load of a scooter is 160 kg.
Scooters - rental
The rental fee is paid prior to setting out for a trip; however, no deposit is required.

The rental fee INCLUDES:
- renting of the scooter which is in a perfect condition, has a valid MOT certificate and insurance
- mandatory vehicle equipment (reflective vest, first-aid kit box, basic tools)
- helmet for a driver
- scooter chain lock
- oil used
- maintenance and service costs
- instructions and training by our staff (operating and basic maintenance of the scooter)

The rental fee DOES NOT INCLUDE:
- fuel used
- helmet hire for a fellow passanger
The scooter is provided and has to be returned with a fully filled fuel tank.
Valid price list: 01.01.2014 - 31.12.2014
Appropriation
Unit
Price inc. VAT per unit
Helmet hire for fellow passenger
1 helmet
50 CZK
One-day rental
24 hours
600 CZK
Short-term rental
2 hours
300 CZK
Short-term rental
every other hour
100 CZK
Weekend rental

Friday 2 PM – Monday 12 AM

weekend
1000 CZK