Krumlov Autumn Recitals, November 3 - December 1, 2018
Regular series of five chamber concerts, which take place every Saturday in the beautiful space of the Synagogue or renaissance hall of Wallachian Court in Panská Street, will offer from November 3 to December 1 already the VIII. autumn edition of the Krumlov recitals.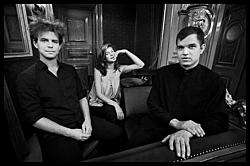 Since its beginning, Krumlov Autumn Recitals Festival has been having a priority to introduce to listeners top musicians from both Czech and foreign countries. You can so experience an unforgettable atmosphere between the performer and the audience. After the opening concert of the Spanish tenor Josep Viader and the Czech pianist Petr Jiříkovský and after the second Saturday chamber meeting with Monika Načeva, Michal Pavlíček and the quartet of Pavel Bořkovec, Solaris3 will present themselves on Saturday, November 17. Solaris3 - that´s an ensemble interpreting music of 20th and 21st century composed by Anna Veverková - violin, Štěpán Filípek - violoncello and Martin Levický - piano.
The fourth Saturday of November the Krumlov Autumn Recitals will then continue with a concert of Bára Basiková, who will visit Český Krumlov with the chamber music sextet called Prague Lecian Strings.
The final concert with Jaroslav Svěcený, Julie Svěcená and Václav Mácha on Saturday 1 December was unfortunatelly cancelled.
Tickets for all concerts are available at the Tourist Information Centre Český Krumlov, or under www.ckrumlov.info/tickets.