Services
>
Gastronomy
>
Český Krumlov
>
Restaurant
Brewery Restaurant
Latrán 27
38101 Český Krumlov
Contact: Historický pivovar Český Krumlov
Telephone: +420 607 521 202

E-mail: info@pivovarck.cz
WWW: www.pivovarceskykrumlov.cz

Location: Český Krumlov
Type:
Restaurant
Alehouse - Tavern - Pub
Catering
Inside Capacity: 200 a 70
Language knowledge: CZ, DE, EN, IT, RU
Cuisine:
Czech, International, Fish, grilled specialities, roasted specialities, Old Czech, pastries, salads, vegetable dishes, venison
Brewery Restaurant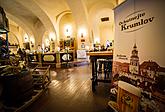 The stylish restaurant with a beerhouse is located in the former brewery cool rooms above the lager cellars that are used to store beer to mature until today. The restaurant is a well-known and reputable establishment sought after by the visitors for its high quality services. The restaurant is interesting not only for its rich history but also for the charming magic of the period architectural style.
The spacious restaurant has a total seating capacity of 200 seats and so can professionally cater for both individuals and larger groups, to organized trips and so on. Our pleasant staff will be pleased to offer you a rich selection of various delicacies in the traditional Bohemian style, including brewery specials. The menu also includes a number of international dishes. Of course you can also taste every single beer type produced in the Historical Brewery Český Krumlov.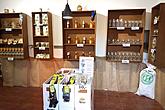 Our shop caters for both stable fans and all one-time visitors. The entire product range of the brewery is for sale for the best prices in the whole town. You can also buy various souvenirs and other collectibles such as beer mats, beer labels etc. In addition you can also buy beer and non alcoholic beverages by the keg. Tap equipment can be loaned and so you can have your own draft beer during various events, celebrations, parties or just for meeting with friends. You can also sit in the outside terrace located next to the shop and sample anything from the alcoholic and non-alcoholic product range made in the Historical brewery Český Krumlov alongside other refreshments.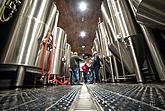 Take a look behind the scenes of the Historic Brewery of Český Krumlov. You will learn the secrets of the beer production that dates back to the early years of the town. You can also taste the Krumlov beer.
In the brewery shop you can buy also some small present for your journey home or as a souvenir.