Services
>
Gastronomy
>
Český Krumlov
>
Restaurant
Restaurant U Hroznu
Náměstí Svornosti 7
38101 Český Krumlov
Contact: Miloš Bláha
Telephone: +420 380 712 088
Fax: +420 380 712 088

E-mail: inlinestudio@seznam.cz
WWW: www.restauraceuhroznu.cz

Location: Český Krumlov
Type: Restaurant
Inside Capacity: 45 + 45
Outside Capacity: 45
Language knowledge: CZ, DE, EN, IT, RU
Opening times:
07.04.2017 - 31.12.2025   (Mo-Su)   11:00 - 22:00

Beer:
Budweiser Budvar, Eggenberg, draught beer, light beer, dark beer, cooper, beer - 10°, beer - 12°, non-alcoholic beer, keg-beer
Cuisine:
Czech, European, International, Cold dishes, Old Czech, vegetable dishes
Accessibility by road:
Our restaurant can be found in the centre of the pedestrian zone. Entrance to the restaurant is possible either from the main square or from Kostelní street. Parking recommended on P1, P2, P3.
Family restaurant with the summer terrace. We offer a wide choice from the colourful Czech cuisine, including duck, fish, venison and vegetarian meals.The menu offers, apart from traditional Czech meals, also pizza and beef steaks.
For groups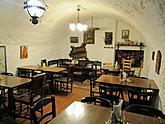 Dates
27.04.2017 - 31.12.2018   (Mo-Su)   11:00 - 22:00
We prepare a self choosen menu for organized groups. The menu is translated into English, German and Russian Language.
The price of menu from 200,-CZK
Photogallery