Services
>
Gastronomy
>
Český Krumlov
>
Restaurant
Jakub restaurant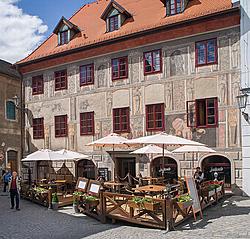 Kájovská 54
38101 Český Krumlov
Contact: Tom Gelnar
Telephone: +420 380 725 912
Mobile phone: +420 775 292 291

E-mail: fb@jakubrestaurant.cz
WWW: jakubrestaurant.cz

Location: Český Krumlov
Type: Restaurant
Inside Capacity: 50
Outside Capacity: 35
Menu: 350
Language knowledge: CZ, DE, EN
Beer:
Eggenberg, Pilsner Urquell, dark beer, beer - 12°, non-alcoholic beer
Cuisine:
Czech, gourmet, European, International, Cold dishes, Fish, pastries, salads
Accessibility by road:
300 m von Parkplatz P1 and 50 m von Main square
Restaurant Jakub together with the hotel Krčínův dům is situated in the same historic building, located in the centre of Český Krumlov, just a few meters from the main square.

Due to render homage to Jakub Krčín, the menu of our cuisine is mainly based on dishes from the fresh freshwater fish and saltwater fish. However, the chief cook also does not forget the guests who search for Czech classics combined with modern technology. Quality fresh ingredients are the foundation of our cuisine. First of all, we always buy raw materials from local producers, growers and farms.

Wines, combined with our meals, have been carefully selected to the wine card. In the wide menu of our wine cellar, the guests will find particularly high quality Moravian wines, but also top-quality wines from the most famous European wine regions. In cooperation with a great winemaker Peter Nejedlík from winery "Good vineyard", we managed to provide a first-class white and red Cuvée Jakub, designed only for our restaurant.

Besides the services á la carte, our professional team will be happy to provide for you also the arrangement of thematic delightful degustation, family celebrations, betrothal, weddings, business meetings, presentations, seminars and other exceptional events, whether private or business nature. Projection screen and audio-visual equipment is also available.
Photogallery